Notes:
1. George Byron Norton (1866-1949) was the son of John Huddard
Norton, who traveled around the Horn to San Francisco on the Brig
"Fanny" during the Gold Rush in 1849. This trip is detailed in a
two separate articles, Fanny.html, a passenger list of the ships company, and
Brig.html, John's letter to his brother written after his arrival in
California. Byron Norton's grandfather was John Norton (Ian
MacNaughton), who developed Belleview farm in Roseneath following his
landing in 1821. Byron Norton's career was spent in the hardware
business with Fennell and Chandler in Charlottetown. From January 3,
1894, the family lived at 61 Bayfield Street, next door to the Seaman
family; Joseph Seaman's wife, Sarah, was Byron's sister.


2. This diary was originally written in a tiny 3" x 4 3/4"
hardware wholesaler's presentation notebook kept by
his granddaughter Ethel Marjorie (Beaty) Hunter of Orwell
Cove, P.E.I. Square brackets enclose insertions of additional
information or interpretations supplied by Marjorie. A transcription of
this document has been placed in the P.E.I. Archives by the Hunter family.


3. The diary was transcribed in text and HTML format by Byron's
Great Grandson, David B. Hunter, also of Orwell Cove, P.E.I. in May,
1995. Entry dates have been standardized for clarity.


[The first page of the diary contains two newspaper clippings, under
the happy heading:]


Charlottetown, P.E.I.
February 3d, 1892
---------------
MARRIED
------


At Meadowbank, West River, at the residence of the Bride's father, on
the 3d. inst., by Rev. E.C. Turner, G. Byron Norton, of this city,
and Gertrude Penelope, youngest daughter of Samuel Hyde, Esq.


Today we chronicle the wedding, at the home of the bride, of Mr. G.
Byron Norton, of this city, and Miss Gertrude Penelope, youngest
daughter of Samuel Hyde, Esq., West River, The ceremony was performed
by the Rev. E.C. Turner. The bridesmaids were Miss Hyde and Miss
Lottie Jones, sister and cousin of the bride, and little Nellie
Seaman, niece of the groom. Mr. G.A. Moore was a groomsman. In
conjunction with the happy couple's numerous friends, the Patriot
extends its hearty congratulations and wishes Mr. and Mrs. Norton much
happiness.
[Bernice referred to G.A. Moore as "Uncle Moore". He was Samuel Hyde's adopted son, and inherited the eastern half of the Hyde farm upon Samuel's death. I would be very interested if anyone knows what became of him after that date, or who his natural parents were. I suspect he may have been the natural son of Samuel's aunt, Elizabeth Braddock and John Moore, but so far, have been unable to prove it. Uncle Moore's full name was James Alexander George Albert Moore, according to the will.]
Apr 19th 1893, Wednesday

Charlottetown
Born - On - Wednesday
April 19, 1893
At no. 86 Bayfield Street
At 10:45 AM - Daughter
Weight 8 1/2 lbs.
Dr. Jas. McLeod

Weather fine and clear. Snow flurries in evening. Sleighing in country
and much mud in town. Grand Mother Norton nursed during first day and
night. Baby cried at intervals most of the time. G.B.N.

Apr 20th 1893, Thursday
Grand Mother Hyde arrived at noon. Baby somewhat troublesome during
day but slept nearly all night - Pensy well - weather fine.

Apr 21st 1893, Friday
Baby quiet - and good - slept most of the day. Pensy still well.
Weather cloudy - not so cold.

Apr 22nd 1893, Saturday
Baby pretty quiet - and well. Pensy keeping in good health. Weather
cloudy and milder.

Apr 23rd 1893, Sunday.
Baby cried nearly all night - up to 4 A.M. but good and asleep all
day. - Grand M. H. [Hyde] with Pensie.

Apr 24th 1893, Monday
Baby slept all night with Grand Mother H. upstairs. Pensie slept
most of the night. Weather very fine and more spring - like -
Grand M. N. washes Baby each day and both seem to enjoy the job. G.B.N.

Baby's eyes are now a dark blueish grey.

Apr 25th 1893, Tuesday
Baby slept upstairs last night till 11 P.M. then came down and
kept wakeful for the rest of the night down stairs. Fairly good
all day and sleeping now. - 8 P.M. Pensie doing well, Grand M.
Norton here part of day - Weather fine and somewhat warmer.

Apr 26th 1893, Tuesday
Baby staid upstairs most of the night and was very good all day.
Weather turned cold with heavy gale and snow storm. Pensy still
keeping well and hearty.
Big Gale - Boats lost

Apr 27th 1893, Thursday
Cold but finer. Doctor called today - all doing well.

Apr 28th 1893, Friday
Both doing well. Bertie [Pensy's sister, Mrs.Fred Smallwood of
St. John's, nee Hyde] in by steamer and Moore in by horseback.
Weather fine and warmer. Baby sleeps well these nights.

Apr 29th 1893, Saturday
Weather fair and warm. Baby very good, only wakened twice last
night - at 1 A.M. and 5 A.M. and has been sleeping nearly all
day - Trying to find a name - G.B.N.

Apr 30th 1893, Sunday
Weather fine and warm. Pensy got up today, stayed downstairs,
but very well.

May 1st 1893, Monday
Fine and warm. Whitewashed dining room. Baby good nearly all
the time now.

May 2nd 1893, Tuesday
Fair and warm. Baby well. Pensy almost as smart as ever. Mrs.
Hyde and Sarah [Norton] papered D. Room today.

May 3rd 1893, Wednesday
Weighed Baby this A.M. - 10 lbs. - nearly. Baby slept nearly
all night and made hardly any trouble. Washing going
on here now. Pensy just about as well as ever.

May 9th 1893, Tuesday
Grand Mother Hyde went home today. Baby and Mother doing well,
Housecleaning near finished.

May 13th 1893, Saturday
Weather warm yest. - stood 80 in shade - not so warm today.
Baby has cried from about six to 10 & 11 P.M. nearly every night
- lately. Grand M. Norton comes over some nights and Aunt Sarah
other nights and lets us go to bed. Baby sleeps pretty well
during day and bal. of night.

May 14th 1893, Sunday
We turned out to church this A.M. - left Baby with Grand Mother
Norton and Baby cried from the time we left till the time we got
home and then cried nearly all the afternoon, only sleeping a
little bit now and then. When baby cried in morning, Baby
Seaman cried too and Grand Mother had a hard time with them.

May 16th 1893, Tuesday
Went to St. John.

May 18th 1893, Thursday
Home tonight - Baby has a light cold in head.

May 19th 1893, Friday
Baby weighs 12 lb. today. One month old today.

May 20th 1893, Saturday
Baby went down this afternoon with its Mother and Aunt Bertie.

May 21st 1893, Sunday
We went to church this A.M., left baby with Aunt Sarah. Baby
slept all the time - cried sometime during night.

May 22nd 1893, Monday
Put $25.00 in bank today for Bernice Penelope N. [Baby], given
to her by her mother. G.B.N.

May 23rd 1893, Tuesday
Our baby Bernice has been very good today - Slept most of the
A.M. and stayed in cot quietly during P.M. and is now in bed
with her mother - asleep.

May 24th 1893, Wednesday
Out at the shore nearly all day. Baby and her Mother and I
with all the Seamans and Jack had a fine time. Poor Athol
came home sick.

May 25th 1893, Thursday
Athol [Seaman] has the measles. - His father Joseph S. Seaman, [school
principal] is staying at our place. Our baby seems restless and
keeps up a restless cry. Just now 9:30 P.M. but she may soon
drop off to sleep.

June 19th 1893
Baby 2 months old today. Weighs 12 1/2 to 13 lbs., is very good
now and very little bother.

Went to Belleview July 1st and staid till July 2nd (night).
Returned to B.V. on July 5 and P. and Baby staid there till
July 18th and I went down each night and back in the morning.
[Charlottetown to the Norton Homestead overlooking the little
island on the Brudenell River and return by bicycle!]

July 19th 1893
Weighed Baby today. 15 lbs. 3 mos. old today.

Aug 15th or 16th 1893
Arrived home from Belleview.

Aug 18th 1893
Went out to West River. Mother and Baby driving. I on bicycle.

Aug 21st 1893, Monday
Wind and rain this ev. I ran out to W.R. at 2 P.M. and storm
began about six. Blew a gale all night - and I came in on wheel
on Tues A.M. Fallen trees all along M.B. road and mud very deep.
Baby is becoming quite smart and interesting, looking shrewd and
old-fashioned with her blue-grey eyes. She is now dressed in short
clothes and looks nice. [West River and Meadowbank Road]

Aug. 31st 1893, Thursday
Pensy and Baby got home this A.M., both looking well.

Sept 6th 1893
Baby is now nearly 5 mos. old and getting much nicer and nicer.
She sits in her wagon on the floor and plays and amuses herself
for a long while at a time and gives her mother much less trouble
than heretofore.

Oct 14th 1893, Saturday
Her Mother discovered Baby's first tooth today (Lower jaw rt.
hand side) Baby is getting very good and much less troublesome.

Oct 19th 1893
Baby six mos. today. Wt. 18 lb. Her two lower front teeth are
now through, quite easily seen. She sits in her high chair at
the table and is getting to be quite good.

Nov 19th 1893
Baby seven mos. old today. Wt. 18 lb. Her two front lower teeth
are now through and another nearly so. Getting much easier to
manage and Grand Mother Norton says she is very intelligent and
knowing her for months.

Jan 3rd 1894
Moved house this day to 61 Bayfield Street making entire removal
(including coal) in about 17 loads. Having spent New Yrs. day at
West River where Baby was not at all well, Bertie came in with us
to give us help with our move, and thanks to her, we settled down
sooner than I had hoped.

Jan 8th 1894
Now quite settled in our new house but our heating apparatus is
not yet in working order but otherwise we are quite comfortable.
This day Baby did about her first creeps (that is a direct headway
move) though she has been standing by chairs and cabinets for some
time and now shows indications of intending soon to walk. She is
much less trouble then formerly, and taken all round is a very fine
small girl.

Feb 7th 1894
Baby, for the last day or two has done the first of what might be
called a creep, today she made a little move and if she keeps on
she will be able to go round fairly well.

Feb 19th 1894
Baby is ten months old today, wt. 20 lbs. and good. She now creeps
almost anywhere she wants to, has not been well for a few days but
she is now quite strong and in good condition. While I write, she
has crept over to my foot and is standing at my knee, she is a
lovely little fair thing and very good about the house but she is
now bothering me wanting me to take her up that she may see what
I am doing at the desk.

Feb 22nd, 23rd, 24th 1894
Nellie Seaman was found to have diptheria today and everyone got a
great fright.

Feb 24th and 25th 1894
Coldest night of season 25 - 30 degrees below zero, an awful cold
fright.

Mar 1st 1894
Our Baby has two more teeth through or nearly so - this makes eight
she has now - She moves about the house now at pleasure and will
soon walk.

Mar 4th 1894, Sunday
Weather fine and mild. Nellie was out for a walk this A.M. Our baby
was very good today - she has learned to clap her hands and will
kiss us when we ask her to. She is now walking about holding to my
chair, then getting down to creep over to curtains and pull at the
fringe on them - now comes to my knee and bothers me - now off to
another corner of the room.

Mar 9th 1894
Baby climbed all the way up stairs today.

Mar 19th 1894
Baby is eleven months old today, weight nearly 22 lb. She just now
climbed up to me, and I had to take her up and she spoiled my chance
of writing and as fast as her Mother takes her away, she creeps back.
Baby's Mother was Baptised last night.

Apr 12th 1894
We discovered yesterday that Baby has cut her two front molars,
both show about half their surfaces above the gum. Baby now talks
quite a lot - says "Bow-wow-Putesy" for Dog or cat - and "Papa
way - way", "Papa", "Mama", "baby", "Pitesy" for pretty, "Dawdelaw"
for all gone, and some other little things of her own. On the ninth
of this month occurred about the heaviest fall of snow of the winter
and navigation is still closed up and the weather cold for this time
of the year. All during the first half Ap. the wind has been East by
North E. The Stanley has been out with R.B.N. [Rupert B. Norton] on
board for nearly a week.

Apr 19th 1894
This is Baby's birthday - one year old today. She is now almost
walking - has taken a few little steps herself and will walk around
with a finger to steady it. A little timidity is all that prevents
her now.

The weather has turned fine and the wind has at last turned to the
west and south- west last night. The barn is now well on and will
likely soon be done. Painting the front of the house today.

This is Scot-Act day and a big fight expected. I predict another
defeat for the act - for I have hardly ever voted for the winning side
yet, on any question. Baby weighs 23 lb.

May 13th 1894, Tuesday
Weather has got fine but remains cold. Finished painting the barn
roof yesterday and all the early gardening is done. Baby has now
begun to walk more than creep and is fairly steady on the little
feet - but sometimes finds it more convenient to run on all fours
than walk. Still, she may be said to be walking now, for in a few
days she will forget about the creeping plan. She is now a sweet
little pink and white thing with all manner of nice little tricks
that would make anybody love it, but she still gives the Mother
a great deal of trouble for she is no sooner out of one piece of
mischief than she is into another, and is always restless and uneasy,
but not withstanding all a dear little thing worth her weight in gold.

Jun 10th 1894, Sunday
Our baby has her 12th tooth and she is now as firm as need be on her
feet - on the26th of May she and her Mother walked down to Pickard's
Bakery and Baby stopped and looked in at the candy in the shop
windows as she passed. Baby has been weaned since May 25th.

When she gets on her allover suit and marches away either down into
the yard or over to see "Mang Ma", she is a funny looking bundle and
at all times as saucy a thing for its size as there is. She says "Bye
Day" and "Naw Naw", Nanna Hyde and lots of things I can't remember
now. She is bothering me until I have to stop writing.

Jul 12th 1894
Been so busy of late no chance to write.

Went out to camp on June 30th. All enjoyed it - till our Baby got a
bad cough about July 8th but I hope by this time she is all over it
and having a good time again. Baby has now become very firm on her
feet - and can do lots of walking. She talks away about Hassies [Aunt
Sarah S.], Daddies [Uncle Joe S.], and lots of other things and says
"Bye Day Papa" and "MangMa", and "Mama". And she is getting bigger and
fatter all the time, or was until this cold struck her, poor little
dear. I have not seen her since yesterday A.M. and won't until
tomorrow ev. which is three days, and I am not sure she is over her
cold. But it was so wet tonight that I was forced to stay in town and
wait until tomorrow night to see my two girls. [Their summer camp was
located on George Mutch's shore at Keppoch].

Aug 18th 1894, Saturday
We struck our tent and came into town today.

Aug 19th 1894, Sunday
Our Baby is 16 months old today and the brightest little thing for
her months that I have seen - today she had a cup taking a drink
and when the cup was empty she happened to see a picture of a cow
in her book when she immediately began to make shapes at taking
hand-fulls from the picture, placing it in the cup, and taking a
deep drink from the cup, and when she saw it amused me she repeated
it again and again. When her "Nonie", as she calls her mother gave
her the chance the next morning she did it again and offered it to
Nonie. Nonie went to church last night and Baby cried for her and I
had to put her to sleep before she would forget it. - Wt. 23 - 24 lb.

Sep 23rd 1894, Sunday
Baby is getting good and interesting, not nearly as much trouble as
formerly. She is growing fast, and makes a very fair attempt at
saying many words and between speaking and making many intelligent
signs, manages to make us understand nearly all she wants. Nonie,
Papa, and all the Seaman children and MangMa she calls by name.

She has been playing the piano with Nonie but now she has made a
charge on me and now I have to stop.

Sep 30th 1894, Sunday
Baby came to church with me today, just seventeen months and
eleven days old, she walked all the way down and up and behaved
finely. She spoke out three or four times, called "Nonie" and
spoke to "Lelly" [Nellie Seaman] but with a little hushing she
soon fell asleep and slept nearly through the sermon, then wakened
up bright and smiling and stayed very good until the end of the
service, then started home to our "Nonie" who was waiting all on pins,
anxious and worried about her small pet - not daring to hope for any
behavior as good as the event proved. But the small thing got home all
right and in the afternoon rode in her wagon with Papa and Nonie out
to the shore and altogether had a nice time.

Oct 19th 1894
Baby is 18 months old today getting to be a fine big hearty girl -
goes out with Nonie to "milk tow" [cow] and she talks almost as well
as a three-year-old -she can make us understand nearly all she wants,
and "makes music" on the piano. She smoothes down one's face and says
"O Bussie Papa" or "Bussie Nonie"- and she comes down in the morning
to say "Papa make mote" [makes smoke as he lights the stove] and she
says and does lots of other nice little things. Wt. today - 26 lb.
Oct 22nd 1894
Monday 2:45 A.M.
Born a girl
Nurse - Miss MacKenzie
Dr. - McLeod
Wt. 10 lb with necessary wrappings (this memo written Tuesday night -
after weighing.)

Nov 23rd 1894
Benice wt. today 28 lb. She is very proud of the "weet sissy" and
loves her and "tisses" her, at every opportunity. She says or
attempts every word she hears and can make us understand nearly all
she wants. Yesterday was Thanksgiving day.
Little baby one mo. old yesterday, wt. full 10 lb. without wraps.
This baby is less troublesome so far than Bernice was.

Dec 5th 1894
Bernice is now quite old and interesting - talks and makes us
understand nearly all that she means. She is a dear cute little
bundle of pink and white. When she saw the first snow and it got
on her boots she was scared of it. But Nonie told her it was nice
stuff. "isn't it funny stuff?", she said so often that Bernice called
it "funny" and now she wants "mo funny", and "Funny told", (snow is
cold). She plays with the little black kitten and calls him "Tommy
Seamy" (Tommy Seaman). She calls Athol "Satah" and Lia is "Mo Satah",
and she is still greatly taken up with Baby Sissy. (This is my
Birthday.)

Dec 19th 1894
Bernice weight today is 28 lb. As she says, she's a "louble girl",
and Nonie is "louble" and Papa is "louble". She says "Sissy tyo",
"Nonie dee" and she talks away like an old woman. She is now pulling
me away to walk in the snow? and the thermometer must have been down
around zero. Sissy is getting quite interesting - laughs and coos
when you talk to her.

Jan 12th 1895
Baby [Ethel] took sick this A.M. had more or less convulsion from
Saturday till Sunday noon when Dr. McLeod and Grandma N. got her
into something like living shape after Nonie and I having come to
the conclusion that we were going to lose her. But she failed
terribly and remained sick for about the week, we having to sit up
with her all night.

Feb 2nd 1895
Weighed Bernice today 28 to 29 lb. She is a big fine girl and good
as gold.
Baby is a lot better and not as much trouble as B. was at her age.
She is about her sick turn, I hope.

Feb 17th 1895
Bernice is now nearly 22 mos. now and she is a big fine girl. She
is taller than "Sappy" [?] I measured them when I was in to see Ba
Ma this morning. She talks a lot now and can say almost everything
she tries. She told me the other morning upon waking that she was
"papa's Dee Bundle" and "Sissy Nonie's Bundle", and she say almost
everything that occurs to her. She is sleeping in her sleigh in
"Palli" [Parlor] and "Sissy doing sleep in tot" (cot) "up a toys"
upstairs and Nonie is out to church.

Mar 17th 1895
Bernice is now quite a big girl and the best and sweetest one in town.
She says almost everything and is a great chatterbox. The other day
she was in Say's [Sarah's], and Ba Ma, sitting in a chair, reached
over and the chair slipped and Grandma came down on the floor and
she got Rupy [Rupert] to help her up. Bernice after she came home
kept telling Nonie that "Ba Ma fell chey Rupie pick up", and upon
inquiry we found that it was telling us about the foregoing incident.
She heard the cow bellow the other day. She said, "Tow bass", meaning
the cow barked. She goes to bed these nights before dark, and nearly
always sings herself to sleep without the least fret or trouble, and
though she gives us a great deal of bother at times, she is still a
dear little midget - and plump and strong and big for a child 23 mos.
old. We had a picture of both of them taken two weeks ago.

The little baby is not very strong and gives us a great deal of
trouble. The white mouth continues bad and she does not thrive as
Bernice did but at times she seems to be quite bright and strong and
then she laughs and kicks and has a fine time, and she is a sweet
mite.

At 6 1/2 mos. little Baby is not 14 lb.

At 7 1/2 mos. she weighs not quite 15 lb. but seems to be on the mend
now and we have begun to feed her with Nestles and sometimes with
biscuits and milk. She is now quite bright and interesting.

Our big girl, Bernice goes to church every Sunday and behaves as
well as any child can be expected to and at home she is as good as she
can be. She talks as well as a ten-year-old and is quite as wise and
old-fashioned.

Oct 20th 1895
Baby Ethel is now one year old and weighs abt 18 lb. and Bernice
weighs 32 lb. Baby E. is getting quite strong and well. Nonie weaned
her last week, she is a cute sharp little mite but very little.
Bernice is a good strong baby girl and generally very good. She
talks now as well almost as a grown person and is an all round
fine big girl.

Feb 8th 1896
Bernice is now a big good baby girl and says and does almost
anything she wants to. She is more than 2 mos. short of 3 yrs and
weighs 34 - 35 lb.

Baby Ethel is a better baby than Bernice was and is now getting
quite big and strong. Her wt. today is 21 lb. She is now almost 16
mos. old but not yet walking although she has been stepping about for
a long time holding on to chairs and wall. She is a very cute sharp
little mite and very interesting.

Feb 12th 1896
Baby Ethel began to walk today first a few inches between the two of
us and then further till now she can walk all across the room by
herself but she still depends mostly on chairs, etc and on creeping
to get her where she wants. She is a dear good little thing and not
nearly as much trouble as Bernice was at her age. Bernice says she
is "Pappy's little baby girl. Dee old Pappy." A short time ago she
talked like this "Do you hear the chilly skreeling out a skreet"
and everything in about the same style but now she has got to talk
quite correctly.

Mar 27th 1896
Baby Ethel weighed 22 lb. today just past 17 mos. She is now walking
quite nicely without any assistance at all but she does not yet get
up off the floor without taking hold of something. She is very bright
and smart and her Nonie thinks there never was such a fine child. She
looked out the window the other evening just before going to bed,
and she made all haste to jump up on a box to get a better view of it
and then the delight of the small thing was amusing - she jumped,
called out in amazement and made up her mouth into the queerest shapes
to tell us of it.

Bernice says she (herself) is Pappy's baby. Pappy's little baby
won't be called big and she is a dear good small girl, she is not
quite three years old but says everything and does lots of little work
and she is very good to Baby Effel as she says. She was telling me
this morning about something she was going to do when the "warm
wesser" comes. Nonie asks "Baby Effel" what the cow says - she says
"Boo", the cat "mew", and the dog "bow wow", and when asked a question
as to whether she wants a thing or not she will nod her head with a
jerk and say "ah." and she is also able to feed herself at table with
a spoon, nearly always takes her dinner so.

Apr 22nd 1896
Baby Ethel 18 mos. today, wt. 23 1/2 lb. Walking well now and right
out of hand says only two or three words "wha is" and "wha that"
we think meaning where is and what is that. Bernice is just past
third birthday and big fine girl - fairly good, but real good-hearted
and will be all right and no older as she gets a little older.

June 7th 1896 - Weights - Baby Ethel - 24 lb.
Bernice - 35 1/2 lb.

Both are fine healthy girls and both are fairly good. "Effel" is not
talking yet but she makes us understand what she wants. But Bernice
can say enough for both of them. They are both just downstairs now
after having each about two hours sleep while Nonie was away in church
and now they are tearing round having a good time together. E. is a
dear small thing but shows quite a little temper when roused but B. is
a good big thing and does nearly everything she is told.

Sept 20th 1896
First memo since coming in from camping at the shore - Belleview.

Both babies are doing well now - getting fat and strong. Baby Ethel
is particularily fat. She is a dear good little thing always better
natured than Bernice, in fact at most less trouble than B. is but then
Bernice is a fine little girl after all and tries to be good
sometimes. Have been very busy since coming in from the shore with
making things snug with the house. The fence in front to paint and the
building of porch at back and several other jobs to keep me busy. Poor
old Mr. Davies died since I wrote last. Forgot to write that baby
Ethel has at last begun to say little things - tries most words and
tells us about lots of matters and does not yet make a sentence and
has not yet gone to church. She says "taw" (cow), "Say" (Sarah),
"Appy" (Apple), "mace" (knife).

Dec 13th 1896, Sunday
We had our two babies photo. last week. Bernice is 4 mos. short of
4 yrs. and Ethel is about 1 mo. more than 2 yrs, they sat quite
nicely. Both have been to Sunday school. B. 3 times, and Ethel once
- the Sunday before last. Ethel can now say her name is "Essie Be
Naughtie" [Ethel Vere Norton] and sais B's name is "Neicie Neppy
Naughtie" [Benice Penelope Norton]. They are both up sleeping now
in bed and their Nonie is in church. Essie is a very nice "little
baby" as she says and B. has become very much better in her ways than
formerly so that they are as good now as we could wish them. Essie
says "Big Big Lacy Lummey" (Big Racers is running).

Jan 10th 1897
We were out to Grandpa's for New Years and came home this day
(Sunday) and had a good time. [Sam'l Hydes, Meadowbank] We were
over to see Bob McMillan's new house he was moved last Thursday.
We went out and came by wagon and on the day we came home a thaw
came on and it has been mild ever since though freezing of late -
seems to be softening again.

The Stanley came in here yesterday to take out the Bark Kathleen
loaded with oats and frozen in. Our little ones are very good now,
they sleep foot to foot in the single camping roll, and when put to
bed talk and play for a long time, sometimes till nine o'clock.

Essie now says everything she wants to in a way. Some time ago when
Nonie put them to bed for their Mid-day nap Essie got up and came down
again without sleeping. Nonie asked how she got out of her bed (cot)
and she said "Essie falled out". Yesterday Bernice was climbing up to
the table and she said "Neicie tum down, fall brakey bones". And
Everything else she says is put in the oddest little pigeon English.
Bernice is a fine big girl and sometimes helps Nonie quite a lot! with
little turns. We had the two babies' pictures taken last mo. (Dec 96).

Mar 12th 1897
Clearing sale on at the store. The two babies are now very good
girls, both slept about two hours at midday and then have been
very good all day. They both go to Sunday School now and both
learn the golden text. Neicie says "They that were scattered abroad
went everywhere preaching word" and Essie says, "EY tattie broad
went evyway peachy woad". And the next was "And Phillip opened
his mouth and began at the same scripture and preached unto Jesus."
Baby Essie says "Philip opied mouse an gan some tipty an peched to him
Deasy" She says "Ow ta do" and "own" and "Essie's own" and lots of
nice little talks. They are always good in Sunday school and taking
them all round they are a lot better than they used to be. They play
together and get along nicely sometimes for long stretches at a time.
When they go to bed, each little one kneels at Nonies knees and says
her ev. prayer as sweetly generally as anyone ever said it.

Nov 7th 1897
Penzie and the Babies have been away at West River now nearly nine
weeks and this is the first Sunday I have not got out to see them.
Both babies are getting almost too big for babies now, Bernice is
quite a heavy little thing 43 lb and the wee one is 31 lb (last time
they were weighed). Bernice, they think out there, is a good fine
girl and I know that that wee one is "feet litty dirl" because she
says she is. They have been having a good time at "Dammie Hyde's"
and I don't think they wanted to come home, for the weather, till
now, had been remarkably fine and they have worked at bringing in
apples, etc. and have been all round busy and happy girls.

Dec 6th 1897
Grandpa Hyde died on this date,

[Exerpt from a newspaper, undated - likely the patriot - the apparent
occasion a parade in celebration of Queen Victoria's Jubilee.]
Living pictures were on exhibition in Mr. R.B. Norton's show windows
yesterday evening. Mr. Norton's two, Mr. J. D. Seaman's six, and Mr.
G. B. Norton's two were stationed inside, six at a window, while the
firemen's procession passed. They each had a jubilee medal, and nearly
every pedestrian turned to look at them.

Apr 19th 1898
On this date, it being Bernice's birthday, Baby showed signs of
being sick and some time after we found she had measles and later
Bernice developed it and both were sick at once. They stood it
pretty well and before two weeks they were all over it, though
each small thing was pretty sick for a while. Bernice is getting
quite big and is a pretty good girl mostly; the last time we
weighed her she went 43 lb. and the baby 33 lb., both exact and
maintaining the old difference of 10 lbs. between them so that the
small thing is not getting ahead of Bernice. The wee one is the
dearest and sweetest child and altogether the best child I ever saw
being very different than Bernice in that she seems to be merrier and
more docile than she. But I always say that B. will grow better as she
gets older.

The Baby is (writing for June 22 - 98 -) a great talker now - says
everything but always drops the letter R and it gives her quite a
Yankee twang that sounds very comical.

Nov 21st 1898
Our two babies are getting over being babies, especially Bernice
who is getting quite old-fashioned and even the wee one is hardly
a baby any longer. They were both down to the shop to see me today,
and they asked me to take them for a trip in the elevator. The wee
one now considers it her duty to set the table for Nonie and is not
too well pleased when Bernice steps in to help her. Yesterday was
the first day of Mr. Raymond's pastorate of the church. (Sunday)

Dec 28th 1898
A day or two before Christmas our small girls started out, as they
thought, to go downtown on their own account - their own two selves
alone to go down and see Daddy at the store. So Nonie fixed them ready
and started them off and away they went, but Nonie went after them and
watched them at every step and saw them consider each turn and each
block and how they looked out for the horses coming and going and how
they "stamped" each "white-horse" they saw [lick a finger and "stamp"
the palm of the hand to record the event] and they finally reached
the store safe and sound and told me they had come alone, but in a
minute Nonie showed up. They are two fine, wee girls now, they sing
lots of nice, little songs together and do it sweetly. They wish
Christmas would come every day for they said they had a fine time
and between them and Nonie they presented me with a moustache cup
and we all had a general good time.

On Feb 11th 1899, Saturday,
Our big girl got sick and the next day the little one fell on it
too and we found that both were very sick with the Grippe. The
little one soon appeared the worst and on Sunday n't. was very sick
and the Dr. said it had a touch of inflammation of the lungs. For
about ten days she was in a bad way but finally came round out of
danger. Bernice at this time showed out the German Measles and
soon afterwards the little one did too and with it we had a very
sick time for 3 or 4 wks. but now they are both well over it all
and today March 23 they're off to the country with Nonie, driving
with Grandma Hyde to see the folks in Lot 48. Wts. 39 - 51

Oct 15th 1899
Came home from Keppoch on Oct 9 after being there three months and
10 days. (Ebbie was married on the 11th inst.) [Everett Norton?]
The small girls have had a fine time in the country and till the
last few days or so did not want to go home. Came down to see me
at the shop yesterday and to get a ride in the elevator.
Wts. 40 - 52 -

Boers declared war on the 12th inst.

Jan 12th 1902
Bernice will be 9 years old on the 19th of April next and Ethel will
be 8 on the 22nd of Oct. B. today is a fine strong girl and good and
with her years, and one half [half days] of school-going, to my mind
is a wonder at spelling and can write and draw nicely. She received
certificate in school for botany collection but the "Little Fellow"
helped her with the gathering of the specimens.

The "Little Fellow" is the sweetest and best little fellow in the
world - Nonie thought she ought to have gone to school last fall but
she was too little and though she grows she is still little and just
now is not as hearty as the big sister. They had a fine Christmas -
got books and a set of dishes. Both got skates last fall and Ethel
thinks she can "skate down the toboggan [slide] without falling" but
B. says its because she steadies herself with an old broom. The big
girl has not got on as fast for she has less time to practice, being
in school in the morning. Lately their weights were 69 1/2 lbs and 46
lbs.

April, 1902
First week of April Bernice and Ethel both had the sick, and both
very very sick for some time. Ethel can now at 4 1/2 years play
on piano almost any tunes she has heard. It surprises one that she
does so well.

May 11th 1902
Our big girl never misses a day in school and is doing fine - almost
always leading her class and our little fellow continues her music
practice - always at and can now play suprisingly fine for a tot of
her age.

1902, Xmas afternoon
Penzie and children went to West River.

Dec 29th 1902
Bernice has mumps. All came home New Year's Day.

Jan 4th 1903
Here is a sample of Bernice's writing, also Ethel's
[By necessity due to the nature of ascii text, the actual
handwriting cannot be reproduced here, but the text is included
anyway. D.B.H.]
Bernice
Bernice Norton
is getting better of
the mumps.
Ethel
Ethel Norton has not yet
had the mumps.

Dec 28th 1903
Today Ethel was operated on for appendicitus - seventeen days in
the P.E.I. Hospital.

1904
Jan 21st Ethel weighs 62 lb and Bernice 97 lbs

Jan 24th Henry Hyde died last night.

1905
More than a year since writing here.

On Jan 25th in big snow storm, walked in from West River.

Feb 5th 1905
Our wee girls are fast getting over being wee. Bernice, not quite
twelve, is nearly as tall as her mother, and even the baby is growing
and getting to be quite the little woman. She is now taking music
lessons at the Convent - the first quarter there - but her sixth
quarter in all - perhaps more. We have almost begun to forget about
her having been in hospital, though she has been home from there
about a year or a little more. We have not too much to complain about
regarding our girls for they're both good, only the little fellow is
always ready to raise a row and kicks up heels and fights the Big Girl
on every possible occasion, indeed poor Bernice has a hard time with
her. They are both nearly always first in their rooms in school, and
doing well there. The MacMillans have not yet started for the West.
The Stanley and Minto are still stuck in the ice after more than two
weeks and the imported hay is of course, stuck in Pictou and the
cattle, they say, are nearly starving and altogether this is said to
be the worst winter seen here in years.

Feb 26th 1905
This is the winter of big storms - cold, and deep snow banks - no
steamers, no trains, cuttings on the R.R. long and 20' to 26' deep.
Weighed the other day - Bernice 112 lbs Ethel 72 lbs

Feb 23rd 1907
Ethel developed the chicken-pox today and had to stay home from
school for a week.

So far - Mar 17th 1907 - Bernice has shown no signs of taking it. During
the last two weeks smallpox has broken out in the country and one case
in the town and the schools and churches are closed but hope the
trouble will soon run its course and things get back to usual form
again. We are well and the girls are getting as big as their mother.
Ethel is now taking music from Miss Morrison and doing well at it and
B. is doing fine at school.

Sep 6th 1908
Uncle Rupert [Seaman] died at 1 A.M. today - buried at Brudenell on the 8th.
Pensy and I went down and stayed overnight - fixed up the graves and
saw many old friends, noticed the date of Grandfather Norton's birth
- 1760 died 1830.

Sep 20th 1908
Our best doggie friend Neddie - the nicest dog and the best - died
today, and we buried him by the rose bushes in the garden - Ah! very
many men die and are buried every day, much less mourned than dear old
Neddie.
After being with us all the summer in the country he sickened and
almost before we knew he was sick, our poor old friend died on
Saturday night or Sunday morn. And now he rests in the clay that he so
often scratched and dug in.
[Long time lapse with no entries]

Dec 20th 1922
Bernice and Wilfred married today at 12 o'clock. Weather bright and
sunny, somewhat below zero but fine and calm, seemed not so cold.
Ethel arrived from Acadia Saturday night and Wilfred [Thorp Beaty,
Huntsville, Ontario] and his mother Monday night following. Big fire
on Queen St. on Thursday burned all afternoon of Dc. 21 -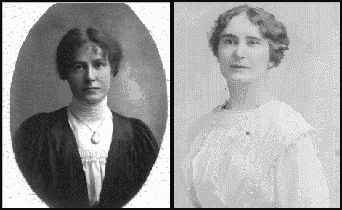 Bernice (left) & Ethel Norton (right)

Mar 10th 1923
Our dear Ethel died today. Bernice came down to Sackville but
we stopped her there. Roads and car-ferry all stopped with snow and storms.

Mar 17th 1923, Saturday
Bernice home at last after one week's delay, arrived Saturday 17
- also remains.

Mar 18th 1923, Sunday
Buried our darling Ethel today.
-- End of Diary --
[This was the last entry in the diary although there were many blank pages left, D.B.H.]

Bernice used to talk about standing at the stern of the car-ferry and
looking down at the deck and her sister's coffin.
[News Item in Patriot]
Sad Bereavement in Charlottetown Home

Bereavement in an especially pathetic form has come to the family of
Mr. and Mrs. Byron Norton of this city. On Saturday afternoon they
received a telegram announcing the sudden and serious illness of their
daughter, Miss Ethel, who was attending Acadia University, Wolfville,
N.S. and advising them to come at once. Owing to the railway being
blocked here and on the Tormentine - Sackville Branch, the journey was
impossible. The first telegram was followed in rapid succession by
three others, the last at 11:30 at night, bringing the sad news that
she had passed away. The only surviving sister, Mrs. Beaty [Bernice Norton]
of Huntsville, Ont., was communicated with on receipt of the first
telegram here and she is now en route to Wolfville, the parents being
unable to go on account of the railway tie-up.

The deceased was a young lady of exceptional lovely disposition,
amiable and beloved by all who knew her; more than ordinarily
talented and with a nature of more than ordinary promise before her.
She was nearing the end of her third year in the University and looked
forward to her B.A. degree at the end of another year. A letter
received by her by last Wednesday's mail told of her excellent health,
her studies and her hopes, a bright background to the dark cloud of
sorrow soon to follow.

She had been in perfect health until Saturday morning when she was
suddenly stricken by a cerebral haemmorage, passed into unconciousness
and lived only about six hours. The blow to her parents was a
heart-striking one, and made all the more so by the fact that they
could not get to her bedside, and they have the heartfelt sympathy of
the whole community.