Suggest This Page To A Friend!
This map is from the collection of - Mike Salmon - MikeSalmon_UK@compuserve.com

This map is an 1878 Railway and Postal Map of Prince Edward Island. Clicking on the small map below will give you a full size view of the map. Saving and printing the full map with a good graphics program on a laser printer will make it easier to read.
---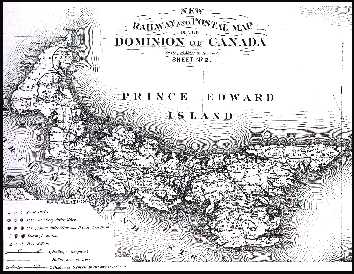 Click on map to view full size. Map is large (300K), and will take some time to load...!
For more PEI Railway Info, see 1903 Auditor General's Report, section on the PEIR!
---
Dave Hunter and The Island Register: Source Code and Graphics© 1999
Last Updated: 06/21/2000 9:56:32 AM
Use your Browser's "Back" Button to return to other pages!
Return to Main Page!
---