---
European Settlement on the
Fortune River, P.E.I.
---
Version franšaise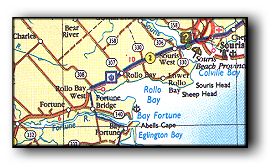 An early French and Acadian settlement which is being extensively researched by a non-profit volunteer committee. One facet of the research is the identification of the descendants of these settlers, in view towards preparing a memorial for a cemetery rededication and reunion weekend, to be announced at a later date.
---
The following Francophone families are known to have lived along the river:
Daigre/Boudrot
Delanne/Caissy
Laborde/LePrieur
LeBlanc/Bourge
LePrieur/Olivier
LePrieur/Chiasson
Bourque, Burke
Detchevarry
Cheverie, Shiverie
Shasong/Chiasson
Doucet, Doucette
Launderie,
Landry
Longapee,
Longaphie
Michele
Petre, Pitre, Peters
Roach
Others?




Photo by Waldron Leard
---
Following the departure of the French and Acadian families from Cape Breton and the Rollo Bay area ca. 1800, settlers of British and American descent moved onto the vacated properties.
The following English speaking families are known to have lived along the river:
| | | | | | |
| --- | --- | --- | --- | --- | --- |
| Abel | Aitken | Amburg | Black | Blaisdell | Brown |
| Burke | Cahill | Clements | Coffin | Conaghan | Cooper |
| Crawford | Davidson | Davis | Dewhurst | Dingwell | Dixon |
| Douglas | Duchemin | Fallas | Flockton | Francis | Gorman |
| Harris | Henderson | Jackson | Johnston | Jordan | Knight |
| MacCallum | MacDonald | MacEachern | MacInnis | MacKenzie | MacLeod |
| MacNevin | McKie | Mead | Murphy | O'Conner | Rielly |
| Rielly | Ross | Symonds | Townshend | Underhay | Ward |
| Webster | Wilmer | Wilt | Wood | | |
---
Further information regarding the project may be obtained from:
Jean Jans, jjjans@pei.sympatico.ca
---
Dave Hunter and The Island Register: HTML © 1998
Last Updated: 03/16/2002 8:20:25 PM
---