Century of Immigration, Marriage and Death Records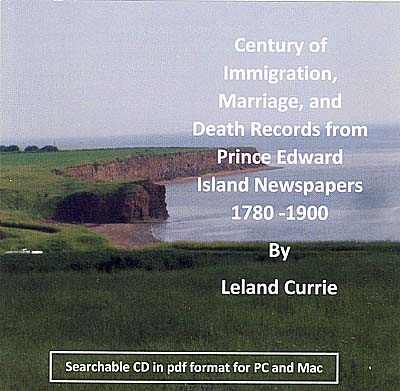 Century of Immigration, Marriage and Death Records is a book of transcriptions on CD in .pdf format for Mac and PCs. It contains transcriptions of marriage announcements, death notices, obituaries, inquest reports, and news items from Prince Edward Island Newspapers for over a century from 1780-1900. These records were transcribed from nearly the entire P.E.I. newspapers on microfilm at the National Archives of Canada.

The CD is set up like a book with a Table of Contents, Search Tips, Chapters by decades for Marriages, Deaths and Immigration. The CD contains over 2,200 pages of searchable records. Each entry is source referenced for newspaper and date and contains over 90,000 source citations from over 50 newspapers during that century.

The CD is professionally produced and doesn't require any special app other than a .pdf reader such as the free Adobe Reader or Foxit PDF Reader. The collection took over 5 years to collect and transcribe and is an invaluable reference for family history research.

Contact Lee Currie at ballantynetrail@live.ca for current pricing and for ordering.