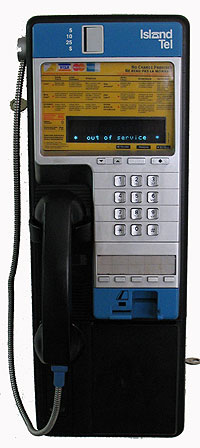 This is a so-called BOCOT/COCOT- like "Smart Phone", featuring a digital instruction display, adjustable volume, options accepting credit and calling cards, coins of 5, 10, 25¢, and dollar. Originally developed by Northern Telecom (Nortel), and typical phones of the series carry the designation, NT5U411BA2011 R11. (number from a Millenium box one of my phones arrived in, not from the actual phone pictured). Loved by operating companies, and despised by phone phreaks (telephone hackers), the Millenium series are the most advanced payphones in the world.

The Millenium is the most secure payphone on the market and to keep it that way, information on the phone is very hard to find. Only details which are publicly available on the phone will be noted here. Millenium phones call daily to their "hive" and contain internal alarms to monitor activity on the phone. Dial tone heard when the handset is raised is computer generated, and the rate tables are contained within the phone and programmed and updated by the Millenium manager. A scrolling advertising line on the phones may also be programmed via the Millenium Manager to show up to 20 advertisements on the display's second line. The Manager can provide constant checks of the phone right down to the number and denominations of coins in the box, credit card verification, self-diagnostics, logging of operational notes such as cleaning and delivery directory dates, and detailed call activity statistics which may be used for planning.

A Millenium for the museum would be impossible to get operational in any way due to its need to interface with the Millenium Manager, but the design and security features of the phone put it miles ahead of its competition. Nortel Networks' Millenniumô Advanced Public Access Solutions Division (sold to Quortech, a Gores Technology Group company as of April 2000 ) has produced an innovative phone which is well suited for the new Millenium, and for well into the 21st Century. Congratulations to Northern Telecom, Nortel, and Quortech!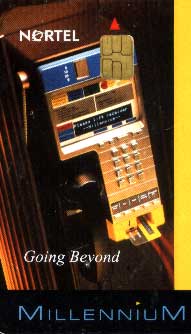 It is because of its unique nature that I wanted to add a Millenium to the collection. No, it won't be able to be demonstrated with actual calls, but hopefully at least, I would be able to get its display working while not connected to a line to demonstrate its remarkable technology insofar as appearing operational.
This phone was Nevada Bell surplus. I have located a Island Tel bezel and card for this phone, and it has been rebranded Island Tel, - more representative of PEI. PEI Milleniums have recently completed their rebranding from Island Tel to Aliant, and these were remnants of the changeover.
Wouldn't it look great scrolling "Welcome to the Telephone Museum of P.E.I." in its advertising line?
Left: Millennium Card given out during 1990's Millennium session in Calgary. Edition: 1 Series 1, One out of 10,000 printed, June 1995.