---

2014 - I made very many additions last year, but due to illness, didn't get them listed here. Most noteable, were 3 high paletts of phones, parts, switchboards, military phones and test equipment donated by Don Woodbury in Ontario and brought to the Island; some via visitors, and fifinal shipment by freight. Much of this remains to be sorted, but I hope I will get it done this spring!
---

Jun 01 2014 - Items from Don Woodbury during unpacking and sorting. Large number of military phones, test sets marine phones, etc.
---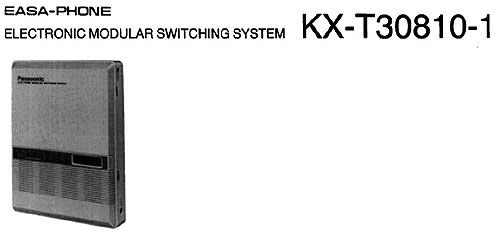 Jun 02 2014 - Panasonic 308 KSU sjmilar to the Panasonic 616 below. 3 lines in, 8 llines out, obtained from another source. I like these, as they will operate both dial and touch tone phones.
---
| | |
| --- | --- |
| | |
| Jun 01 2014 - Siemens & Halske Linienwahler, line selector phone.made in the Wien Apostelgasse, Vienna, Apostle Street, Austria Works in November 1930. | Jun 01 2014 - the "Pregnant Pink Beluga", Tekcell Electronics Corp. SD-10, a desktop payphone designed for store and bar counters. The phone contains an internal rate table and uses quarters only. |
The above phones are part of a very large lot of phones from Don Woodbury. More will be added to this page as I get a chance to go through them.
---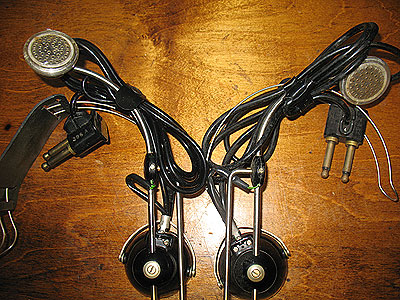 May 15 2014 - Two operator's headsets from the Milner batch.
---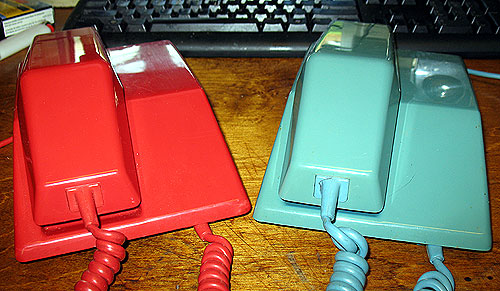 May 15 2014 - Two dial QSK100AX Contempras from the Milner batch.
---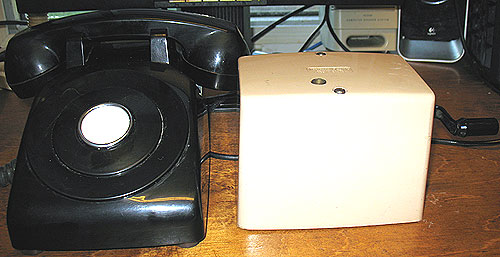 May 15 2014 - NE41BN magneto and 500 Q3A made durng the latter magneto days for customers wanting a modern looking phone while still maintaining acess to the magneto lines. This was used for similar reasons as the NE554 Q3A and NE41BN shown further down this page. These are scarce, as there were not that many placed in service.
Along with these, were a large number of other phones picked up the same day. I will not be posting all of them here, but these include a pair of operator's headsets, two 202 phones plus matching subsets, red and blue Contempras, plus a nnumber of 500 and 554 sets plus parts. Thank you, Wayne and Alice T. (Flemming) Millner!!-
---
Apr 24 2014 - Phillips Electrical Works monophone, model Z 5196-A5 made in Brockville, Ontario in 1945. I had several of these when I was young, but my collection went missing when I was in college. These phones were relatively common in basements in Brockville and area when I was young, but I have been searching for one to replace the one I had had for the past 40 years...

I have always been happy to add Phillips Electrical Works items to the collection, as they were part of my youth!

One more off the Bucket List!
---

Apr 04 2014 - AE Tools and Test Equipment Catalogue TT from Automatic Electric (Canada) Ltd.

It is in binder format similar to the NE T9 catalogue, and encompasses approximately 300 losse leaf pages.

It lists not only AE tools and test equipment, but also other manufacturers such as Arrow, Klien, Utica, GMP, Bradley, Scotchlok, CMC, Neuses, Jonard, West, and many other companies, all of the pages printed by AECo (as opposed to other manufacturers pages being placed in the binder).

Sections list::Small Tools
Maintenance Tools
Large Tools
Central Office Test Equipment
Outside Plant Test Equipment
Safety Equipment
---
Wanted: For some time now, I have been looking for an affordable battery jar for my Bell Canada 3 box Blake transmitter, long pole receiver phone. The earliest telephones used a sal ammoniac filled battery jar mounted in the lower section. I have been unsuccessful finding a jar and cover I could afford, but may have come up with a solution.
Last week, I found a flint glass battery jar minus lid on eBay and purchased it. To display it, I will need a lid. I am hoping one of our readers might do pottery. The lids for these were made of unglazed porcelain. So, it ahould be fairly easy for someone with a potter's wheel and kiln to make one to fit the jar. The lid's dimesions are in the drawing below. The inner lip would have to go inside the 9 cm top of the jar. I can drill the holes for leads in it afterwards. The to[ can be raw porcelain, and does not need to be glazed.
One of our readers who does pottery has agreed to produce a lid for it!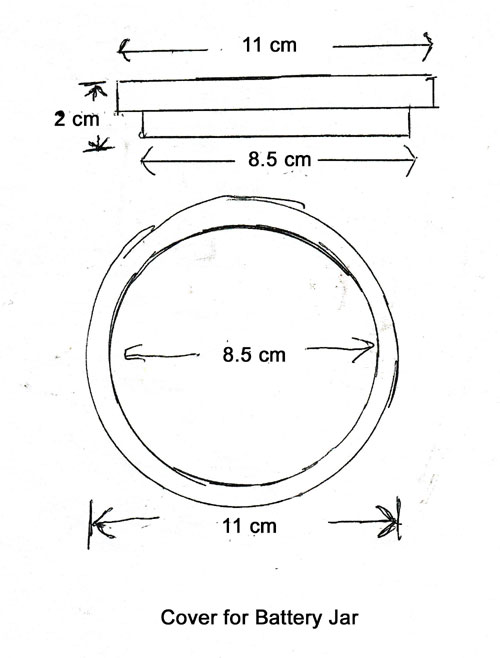 ---
| | |
| --- | --- |
| Mar 07 2014 - Antique Eagle No. 66 brass oiler used for general lubrication, and for lubricating portions of Stowger witches. | |
---
| | |
| --- | --- |
| | Mar 06 2014 - Northern Telecom's Alexander Graham Commemorative phone from the 70s and 80s. This was part of NT's "Imagine" series of phones. These phones have retained their value and are very popular. I picked up this one to interest children visiting the museum. Despite its unusual shape, it is a fully functional phone, the propeller being the dial, and the wings, the handset. The phone is very close to the same size as a 500 set. |
---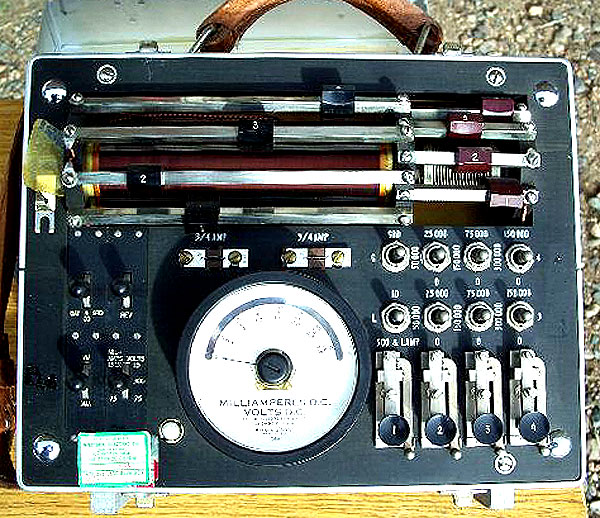 Jan 24 2014 - Western Electric 35F Test Set 194714B, a current flow test set designed for adjusting relays. This one came from Bob Smith of, Prescott, AZ, and these are becoming quite rare these days. This instrument is in excellent condition. I need to find a set of cables and test clips for it.
---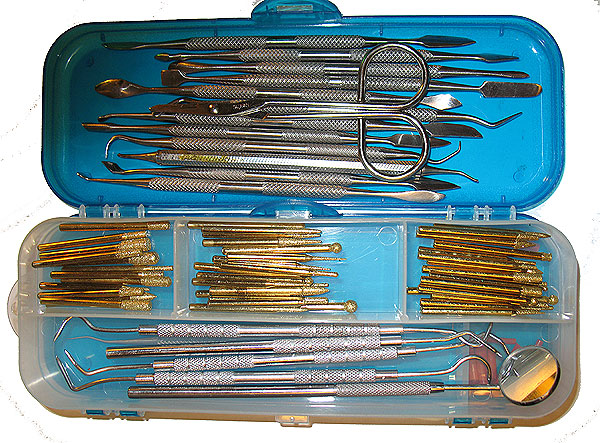 Jan 24 2014 - assorted Dental tools used for a number of purposes. Picks are used to remove solder from PCB boards, spatulas for repairing plastic and bakelite cases, mirror for viewing under boards, titanium/diamond burrs and drills to grind and repair cases, hemostat for holding wires while soldering. All are contained in a cheap double-sided pencil box from the dollar store.

Below is a Chinese flexible shaft rotary tool similar to a dremel. By using the flexible shaft, it eliminates the gyroscopic effect one feels when using just the rotary portion. When doing close up work, that effect can make it difficult to control the fine bits, therefore the flexible shaft is far better.

To repair case cracks, the crack can be V'ed out using burrs to help glue bonding, the dust removed can be mixed with the epoxy glue to give it the correct colour, and it can then be applied and smoothed out using the dental spatulas. Final polishing is done first with the dremel, and then using Novus plastic polish to make an invisible and strong repair.
---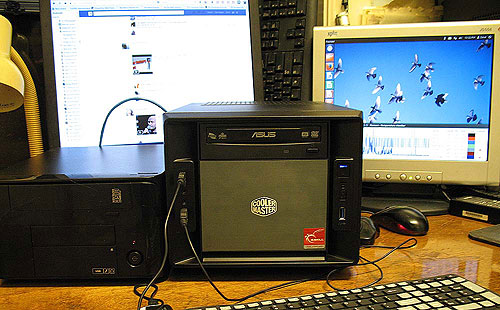 Dec 02 2013 - Two new computers built running Linux destined to become Asterisk servers for the museum. I was given two Mini-ITX boards and ordered two new cases. One board turned out to be bad, so I ordered another board new, a Biostar NM701-847 Integrated Celeron Board, 2 gigabytes of memory for it, and a SATA hard drive for it - the other machine on the left was constructed with the good used board, memory I had, and a disk drive I had. As parts arrived over the past few days, I have constructed both of these.
The larger one with the Biostar board is displaying on the right hand screen in the photo. That one will dual boot, either into Windows XP or intu Ubuntu Linux. Two nice machines!
These both are designed to be compact, low power consumption machines. Just what I needed - more computers!
---
| | |
| --- | --- |
| Oct 21 2013 - Another phone donated to the Museum in a batch dropped off yesterday by a lady who bought it in a yard sale. This is a Dutch PTT (Post, Telefoon en Telegraaf) Ericsson phone made in Rijen, Holland some time around 1951. It needs a new handset cord and receiver element (which I have located), but otherwise is as new and perfect as the day it was made. | |
---

Oct 09 2013 - A very early Northern Electric N-1317F with picture frame front given to the museum. This 1317 pre-dates the others I have and features some items not seen in the later manufacture. First of all, early 1317s had the long transmitter arm as opposed to the much shorter arms in later ones. Additionally, the doors in the early ones were supported by four hinges; not because they needed the strength, but because the bells and transmitter leads were routed through the hinges, giving a nuch cleaner look. Additionally, the attractive picture frame front was available only in the early years. Later they were produced only with a plain front. This phone needs a new transmitter arm; the arm which was on it was not the correct one - someone had placed a Kellogg switch and arm in it, but left the original switch flopping around in it. I located a correct switch in my parts supply, and was able to find a new arm which I am waiting for. The wires to the bell had been cut and replaced by dicrete wiring. I have returned that to normal.Wiring inside has been neatened up and restored.
---
Sep 23 2013 - Two new items for the Museum this week, a Tempo Sidekick TN, and a Tempo E2520 TDR unit. The sidekick will help locate line faults by doing a number of tests on it.

It is from the same family as the 7B shown below, but provides an additional 5 functions.

The TDR works on a process similar to radar, sending a signal down the line, and analyzing any signal reflected back down the line. As a result, with a TDR, you can tell the length of the line, number of feet to a cable fault, diagnose opens, shorts, water problems in the cable, etc.

I need to find a set of test leads for the TDR, but it works 100%, as does the Sidekick TN.
---
Sep 20 2013 - Some of the items found at last weekend's 70 Mile Coastal Yard Sale for the museum. In the sale, I found a JYDSK Danish wall phone from the early 1900s, several incomplete N717CG phones, a Holzer-Cabot subset, a Northern Electric 202 D1 handset phone, and a hundred or more tools designed for the servicing of a Crossbar Central Office. It was a great weekend!

I have identified most of the tools from vintage catalogues and they will soon be listed in the museum tiool listing. These are not for sale!
---
Sep 05 2013 - Tempo Sidekick 7B Tester

The SIDEKICK 7B, which combines the functions of a Longitudinal Balance Tester with a Volt- Ohmmeter/ Kickmeter, is used to quickly determine the noise susceptibility of dry or idle working pairs.

The SIDEKICK's patented Stress Test determines the capacitive and series resistance balance characteristics of telephone pairs.When this test is activated, the SIDEKICK excites the pair in a longitudinal, or simplex fashion, through a network that is perfectly balanced between Tip and Ring.

The SIDEKICK's analog meter simultaneously measures the audible noise produced when the 90 dBrnC power influence encounters imbalances on the pair.
---
| | |
| --- | --- |
| Sep 03 2013 - The 1012Ais a large kit of tools expressly made for replacing coils on these relays in Central Offices - I have a similar kit made by Northern Electric; a 1014B kit for replacing parts of AF, AG, AJ, and AK relays, also specifically tailored for those specific relays. As I have said in the past, what makes collecting these tools interesting, is there was a special tool or set of tools made available for just about every purpose! | |
---
| | |
| --- | --- |
| ATT 123a Touch Tone Dialer Accessory. Designed to dial touch tone digits on a dial phone. Set this device over the telephone transmitter, and enter the digits. The audio from the pad dials the phone without ever touching the rotary dial. These were big in the 80s during the change-over from dial to Touch-tone. It has ten memories which can be programmed with your most frequently called numbers, and incorporates a redial function. Sound is transferred to the transmittet of the phone via a small speaker on the back, | |
---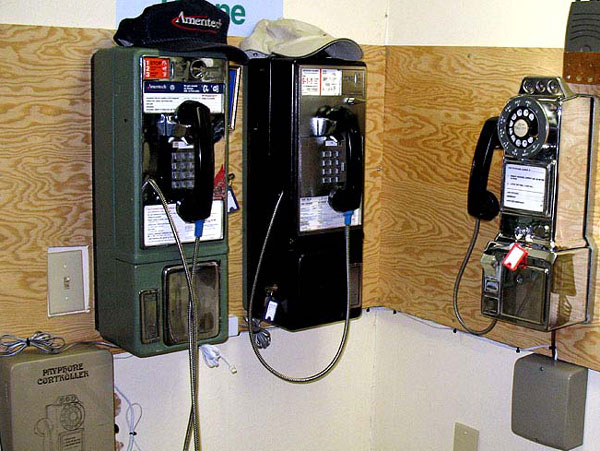 Controller and NE233QF shown below installed in the museum. This phone (right, above) is operating on the controller (left). Insert a dime or two nickels and you get dial tone. Dial a number and if the call goes unanswered, you coins return. If the call goes through, the coins are collected. Eventually, most of the pay phones in the museum will operate on this controller. Controller courtesy Stan Schreier.
---
Jun 05 , 2013 - 798A - Modular Notching Tool used to convert non-modular phones to accept modular connectors. and 799 tool - A notching template - used to guide installers to place notches in the correct position when using the 798A tool. Now, in the days of all modular phones, these have become quite scarce!

Also received the day before, two scope or equipment stands to be used in the museum for holding and moving heavier equipment and as a portable work surface for working at items around the museum while sitting.
---


Jun 03 , 2013 - Bell System Numberall 3-16 tool - used by cable splicers to tag cable counts on lead tags and sleeves.
---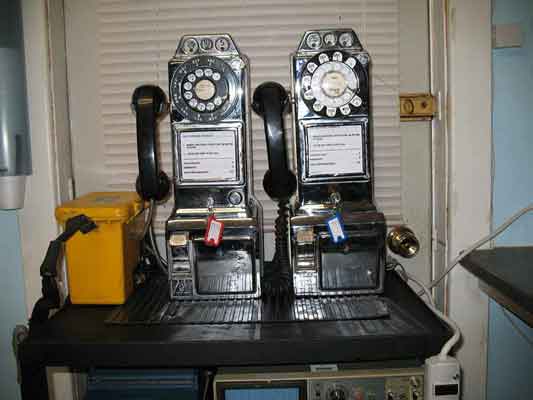 May 31, 2013 - Two Chrome Northern Electric Payphones, an NE233H and an NE233QA. The NE233H (right) was missing a number of internal components and has been fixed up as a non-pay phone for Jeffery. The NE233QA on the left is complete, and will be used with the museum's payphone controller for display. Both shown on top of one of the new rolling equipment stands.
---

May 31, 2013 - A very large lot of teletype and telephone items from Ontario, some of which are shown below:
| | |
| --- | --- |
| | |
| 1958 8 inch Telephone Service Decal - Unused | CDC SDA-103 Distortion Analyzer |
| | |
| CDC TMG-303 Fox Generator | Digitech 2652 Distortion Analyzer |
| | |
| Antistatic Mat and Wrist Strap | Northern Telecom "Installation Tool" NR-2315 stamping set, similar to the Neuses N-2315 kit below. |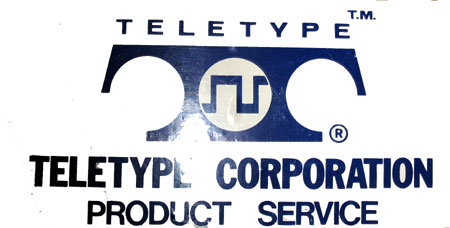 Teletype Magnetic Service Vehicle Sign
Also included are a Model 14 teletype, loop supply, 2 power supplies, boxes of Teletype parts, rolls of paper tape, ribbob, etc. etc.
---
| | |
| --- | --- |
| | |
| Apr 05 , 2013 - Island Telephone Company 1962 | Apr 05 , 2013 - Island Telephone Company 1964 |
---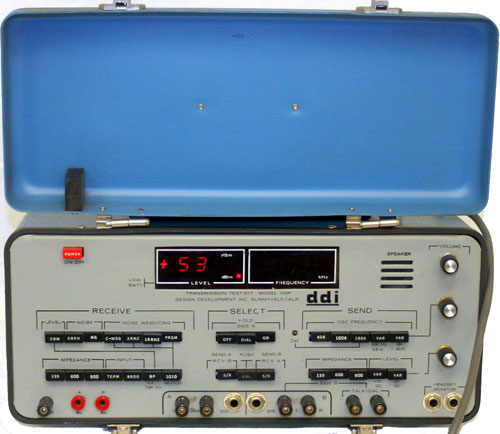 Apr 05 , 2013 - DDI Transmission Test set , model 100P, measures level and frequency.
---
April 03 , 2013 - Putnam Rolling Ladder Inc. C.O. oak Stool made for telco use and used for splicers and C.O. repairmen.

Since 1905, the Putnam Rolling Ladder company have been producing these for industry. When the Bell company was disbanded, it was expected that Putnam might also meet its demise. However, at the time, designers were discovering the popularity of industrial design, and that has carried the company forward to the present day.

They produce fine wooden items with the quality expected in the early 1900s, and still do.

Watch a video showing these still being made:
---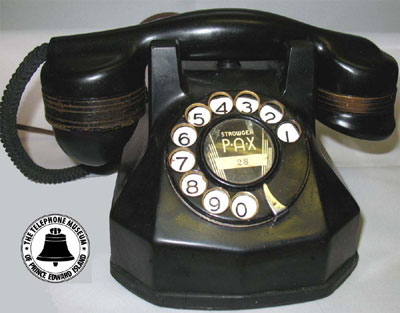 March 24, 2013 - It didn't look like much, then, but last week, I finalized a deal for the above AE-34 coming from Washington State.These were made for 4 years pre-1938, It was filthy inside and out *what collectors call "farm fresh"). You cold practically smell the meadow muffins! AE-34s have become quite rare these days - the similar AE-40s are much easier to find, so I am thrilled to find this one, farm fresh though it was, so to speak! I ordered new cords and a dial number plate for it as well. It is mostly comleted now, and works like it did in 1938!.
See: http://www.classicrotaryphones.com/forum/index.php?topic=9000.0
It took a lot of cleaning if you compare it to the "as found photo" on the linked thread above, and still needs more buffing, but it is coming along really nicely, and works like a charm.
The AE 34 monophones were made only from 1934-1938, at which time they were replaced by the newer AE 40. AE 34s had a single hook switch button, mounted halfway between the handset support ears, and only a single cord entry/exit point halfway across the back as compared to the late AE40 which had a button on each ear, and two cord holes, one in each back corner. The AE 34 also has the heavy L-900 A-0 handset with the earlier transmitter in it that doesn't break when opened. Setting its receiver angle requires the use of a monophone tool.
Extensicords have become quite rare today - I have put the NOS Extensicord on it to replace the threadbare cloth cord. Extensicords were patented by AE in the early 30s and offered as an option on AE 34s.
I had been looking for a very long time for an AE 34 for the museum, but any I saw on eBay had very high prices, so I had to wait until I found one in farm fresh condition, as this was when it came, to be able to afford it. It will soon take its place of pride alongside an AE 40 in the museum AE display!
---
| | |
| --- | --- |
| | |
| 1957 PEI directory bought on eBay March 6th, 2013 | 1969 PEI directory bought on eBay Feb 07, 2013 |
---

Pair of 60 year old splicer's scissors donated by an anonymous donor Mar 2013. This filled a gap in the tool collection unbenownst to the donor - previously I had a splicer's knife and sheath which had a space for scissors, but no scissors. This completes that set!
---
Jan 21, 2013 - Payphone controller designed in 1997 by Stan Schreier. Stan manufactured these until costs rose to the point where it became prohibitive. Stan had this one left, from his business, where he took it off the wall when he closed it down. At the time, he powered 9 payphones with it.

It makes a normal phone line work like an old fashioned dedicated payphone line. When you insert a coin, dial tone appears, and you can make the call. Amount of the call is dependent upon the totalizer setting of the phone. If a call doesn't go through, the coin(s) are refunded through the coin return of the phone.

Sadly, those available today, only allow one phone to run on it - this one will allow me to run most of the museum's payphones on it.
---

Jan 16 , 2013 - Left, OK G-100/R3278 squeeze wire wrap tool; Right, Electric H.F. Wilson W4496A Wire Wrap gun
---
Dec 31, 2012 - These were sent to me by our friend Terry Biddlecombe, who has been a big supporter of the museum since its inception. They are left to right, then back to front, RED Meridian M7310 with optional BLF, M7324, M7208, M7100, and just for good measure, a red Harmony phone.

All but the Harmony will work with the 6x16, and of course the Harmony will work with any POTS line, or with the Panasonic PBX. It has pretty well filled out my collection of Harmonys!

Red is a rare colour in these - most others are Black, Beige and Grey. These will certainly brighten up the displays over my Black, Beige and Grey ones!
---

Dec 17, 2012 - Pair of Dictograph Office phones, both made by Dictograph Corp., but one of the two branded on the front Telematic.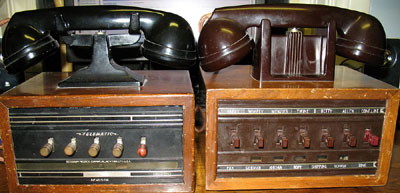 ---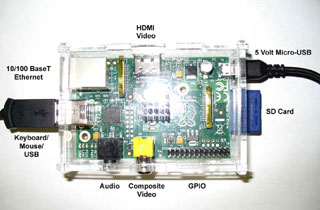 Dec 15, 2012 - My Raspberry PI computer arrived the other day, and I have been having a great time with it. No, its not a phone, but there are a very large number of phone related applications it can run, Asterisk, PBX, Web Servers etc. etc. All on a $35.00 computer smaller than a package of cigarettes, even when housed in a case.

I just put mine in a case tonight, and installed a heat sink on the CPU, and just wanted to post a photo I took of it.

These also have a reputation of being excellent as a HD Multi-media server.
---
Dec 13 , 2012 - A Western Electric "Imperial" set. These were phones recycled in the 50s by Western Electric from D1 202s of the 30s. The bases were plated with silver or gold, and they were totally refurbed, and sold as premium sets. The gold finish on this one is flawless, and it now requires only a bit of touch-up of the handset paint.

A similar, less flashy line was also produced by painting of the sets. It was called the "Continental". I have one in green.

A very smart bit of recycling by WE!
---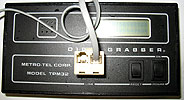 Oct 19, 2012 - Metro Tel Corp Model TPM32 Digit Grabber - ordered in unknown working condition. What allowed such a low purchase price was the fact the speaker had come loose inside, making the unit rattle severely when shaken, and the vendor had no way to test it. I only had to re-fasten the speaker when it arrived, and wound up with a unit in near NOS condition. This device was used, for example, to verify the digits dialed by a touch tone phone. The digits dialed will be placed on the display screen and scroll as they are dialed. This will be a very useful tool.
This is unlike the test given by a BK or Radio Shack tester - they display one digit at a time. This tests to closer tolerance, and will display full numbers on its screen. It will also show the timing of a pulse dial. It will give the PPM on the left hand side of the screen, and the make-break ratio on the right. A great way to make sure a dial is within specs.
---

Sep 24, 2012 - The fellow I bought the switchboard from yesterday called me up just after I got it in the door, and offered to give me come phones, so I went back in today. Among this bunch, is a NE Uniphone #1 in Burled Walnut, and with the very rare NF handset, and the rarer D96337 transmitter! It is a keeper - the rest are duplicates of ones I already have.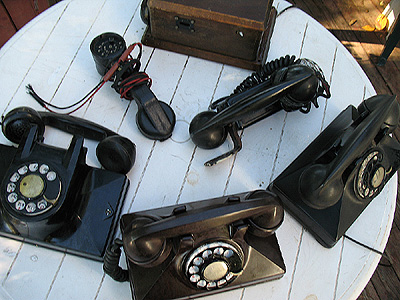 ---
Sep 24, 2012 - This is a Northern Electric N317A switchboard, which would have been used for an independent farmer's line. Bearing many of the features of the much larger N1240, this one is designed for a maximum of 15 lines - this one is equipped for 10 lines.

I will have to replace the three key switches on it, as one is missing, and the other two have the knob and shaft broken.

A number of wires are off on the left hand side of the key shelf, and I will have to restore those connections.

It was purchased from a gentleman in Charlottetown. He also gave me a number of other items along with it, battery boxes, three subsets needing work, operator's headset, extensionbell, external key, etc.
---

Sep 24, 2012 - This was the weekend of the 70 Mile Coastal Yard Sale on PEI. While I find it really difficult to get around to many of the sales with my disabilities, I do try to get to at least a few, and I have over the years found a few hot spots for the items I look for. Saturday, I only found one item, a vintage Northern Electric butt set with a GPO #1- dial.
Sunday, at one of my identified hot spots, I got a number of items, all interesting.
| | |
| --- | --- |
| | |
| QTH36B Seicor - Punch Down Tool for CO quick connect frame blocks.. | 4055 3M/MS - Insertion tool for SAC boxes, the light green cross connect boxes at the side of the road serving neighourhoods |
| | |
| BIX Tool - Original BIX tool for Northern Telecom Bix blocks | LRC Thomas & Betts - For snap and seal connectors. There is a plastic grommet put around the wire, then you manually force the wire into the plug and this tool is used to drive the grommet into the end of the plug sealing around the cable. |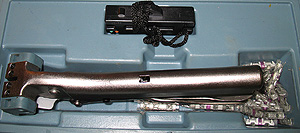 3M MR1 Hand Crimping tool for Picabond Connectors - These were primarily used to splice outside plant cables and as you mentioned do in line or butt splices and it splices, cuts off excess and insulates all in one pull of the handle.
| | |
| --- | --- |
| | Gamewell Alarm Box - used in cities as a fire alarm. One was located in the center of a neighbourhood, and if a fire occured, the Gamwell would send a signal to the fire department. Each Gamwell would identify its location using a clockwork mechanism. These were used before the age where mostly everyone had their own phone. |
---

Sep 12, 2012 - This is an Avocado green 500 c/d set with an adjunct NE 1035BQA dial connected to it. It will allow one to dial either in pulse using the dial, or with Touch Tone when needed to access special features. This combination was often used in the 80s where they had to access a PBX by pulse, but when connected to the PSTN, they needed touch tones to access certain services. These adjunct dials are getting quite hard to find now - this one came in a trade with Michael Hartwick. The dial is connected as per NTP 501-1651-200 (page 67 of the 1980 Key Systems manual)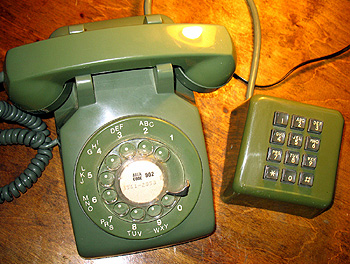 ---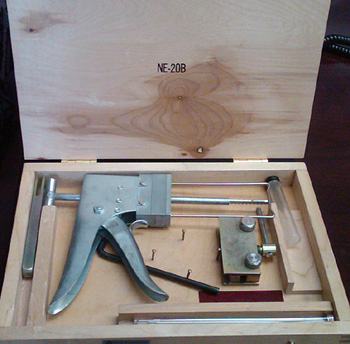 Aug 22, 2012 - This is a 1014B donated by Barry McCallum and was a kit which included the NE-20B case, an NE715A tool, NE 716A tool, NE716B tool, NE717B tool, 1 Box containing four NE 718A tools, Container containing eight P12B536 tubes, NE 666B tool, NE 674 tool, and a container holding one NE 689A contact separator.
The kit was made for replacing coils of NE-AF, NE-AG, NE-AJ, and NE-AK type relays. (line and cutoff type). A BSP for the use of this kit maybe found on the TCI document library, 040-272-801.
---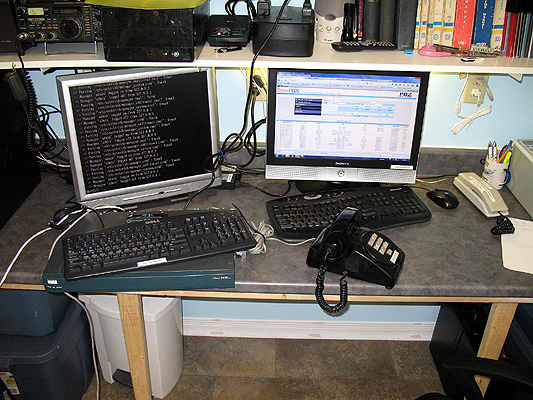 Jul 29, 2012 - Chad Perkins spent a few hours from his vacation bringing down and installing a Cisco 2650XM on our Asterisk VOIP system. (Router sitting under keyboard). Chad had to leave for a prior comittment before we had it quite set up, and my son, a Cisco trained network administrator took over from there later in the day. It was a piece of equipment Jeff had never worked on before, nevertheless, he was able to solve a persistent ptoblem related to the asterisk installation on the server which had plagued Chad and I earlier in the day. Note the Asterisk server above the left hand monitor and the router temporarily placed under the left hand keyboard. The 1500 set is on the first FXS port of the router.

Sunday Aug 05, 2012, after a marathon conference call between myself, Chad Perkins, and John Jones we got the router properly calling from Asterisk to the Demo (this is the demo system shown on the main museum page). Number for line 1 is 1- 651-3211, and for line 2 is 1-651-3212. You can also call in to the Cisco Router FXS Port 1 at 1- 651-5110, a 1500 set. The museum announcement.message system is on 1-651-0001, and you can reach me any time I am home but not in the museum at 1-651-2762 from CNET. One must, however, be a member of CNET (the Collector's VOIP Network), and it must be done during periods I have the Demo turned on. I will announce on the CNET list times when it will be on. All but the Strowger demo switch will be accessable 24/7..
---
Jul 09, 2012 - Often seen in Ebay ads advertising them as linesman't test sets. They are NOT! They are a Western Electric 331B Portable Telephone set - used by radio companies to do their remote broadcasts. Each location that they remoted at would have a private line set up, and when they prepared to remote, the 331A would be plugged into the line so they could coordinate the broadcast. Their sound equipment would be connected to the line once the broadcast began. A beehive warning light attached attached to the phone, or an internal ringer could be used to let them know when the other end called. I remember one time the operator of one of these units forgot to mute the bell, and it rang out across the church just prior to the service. These were used to air hockey games, church services, grand openngs, etc.

A handset or operator's headset would plug into a dual socket on the left of the phone. Mine hadn't arrived when this photo was taken..

This has a broken neon tube in the beehive light. A new one has been received from Jeremy Walters. Thanks!
---
Jul 07, 2012 - 2500 DMG with clear plastic case.

The plastics were taken from a Cortelco 2500 and fitted on a WE 2500 base. People visiting the museum can view the internal components without removal of the cover.
---
| | |
| --- | --- |
| Jun 28, 2012 - Wilcom T136B circuit test set in NOS condition. Tests loop ma., CKT loss, noise, PWR Infl.., in a simple multi-function unit. Has a battery test position to test its internal batteries. This was a staple in many a troubleshooter's trucks during the 80s and 90s. | |
---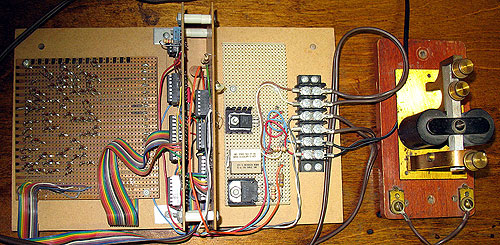 May 29, 2012 - This is a telegraph demonstrator built in 1997 by Bill Smail for the Alberta Railway Museum. On May 24th, 1844, Samuel Finley Breese Morse (April 27, 1791 – April 2, 1872) sent the message "What hath God Wrought" from the Supreme Court chamber in the Capitol in Washington, D.C., to the B & O Railroad Depot in Baltimore, Maryland. This device sends Morse's message to the vintage sounder on the right so people can hear the old landline morse just as it was heard back on the sounders of the day. To start it, a button is pressed. While old technology is used in its design, nothing nearly as old as the technology of the sounder, and the diode matrix driving the code results in a perfect rendition of Morse's "What hath God Wrought" message. It is like hearing an echo from a century and three-quarters ago. This has since been built into a metal case to make it more robust for display. The entire unit runs off a 6 volt DC source. It will be added to the museum's telegraph display shown further down this page.
---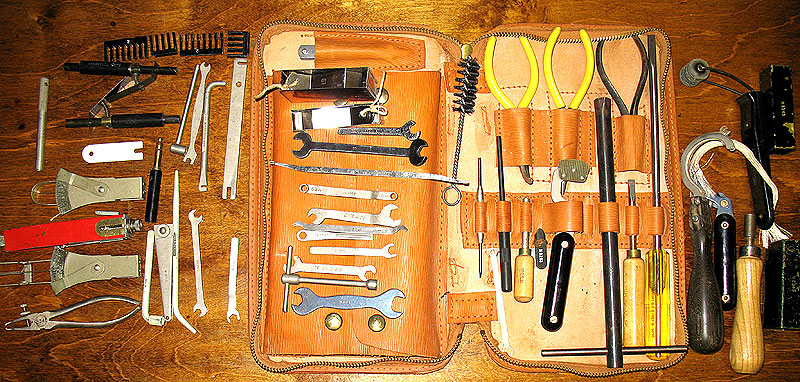 May 07, 2012 - Donated by Ken Langilleof Brooks, Alberta, a tool kit put out by Etelco, British Ericsson. Many other manufacturer's tools have been added including some PK Neuses, BT, and some AE. It will take me quite a while to identify some, while some like the gram gauges and switchboard lamp removers on the left, feeler gauges in the center are obvious. So are the Strowger bank cleaners on the right. Thank you so much, Ken, for your wonderful contribution to the museum's tool collection!
---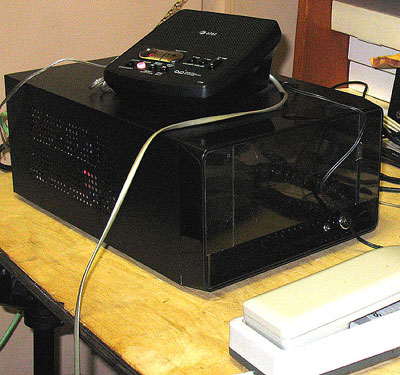 May 05, 2012 - Atom ITX PC based linux/asterisk server providing VOIP service on C*NET, a worldwide network of telephone collectors and museums. This system will allow all collectors and museums worldwide on the network to access and operate the museum's various switches using the VOIP protocol. Shown is the answering machine which provides answering/messaging through the Panasonic 616 KSU. One calls the first line in the system, and they get an announcement about the museum, and can leave up to 40 minutes of messages. This system was put into operation May 5th, and in the next two days received calls from over 35 collectors and museums from Canada, the US, the UK, Ireland, and Germany in the first 48 hours of operation. Likewise, I can call any collector who is a member of C*NET without charge. This unit was donated by Dean Clark.
---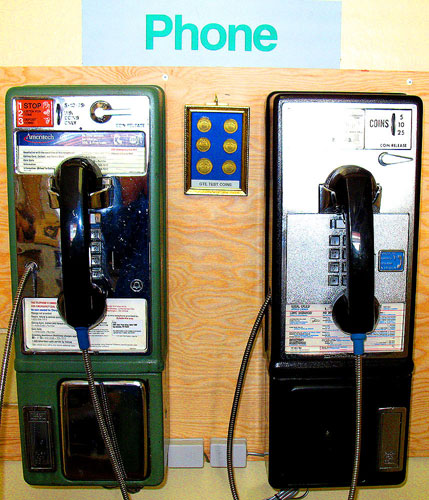 Apr 04, Apr 11, 2012 - (Left) A Western Electric 1D2 which arrived last week, and (right) An Automatic Electric GTE 120B (which arrived Wednesday this week) payphones mounted in the new room of the museum. Both are operational with the Panasonic KSU, making both of them demonstrable without depositing coins. These were the period of payphone immediately following the 3 slot payphones elsewhere in the museum. These were classified Fortress phones, as was the Centurion phone, of which I have also have examples in the museum. Both work well. Between phones, six GTE payphone test coins,
---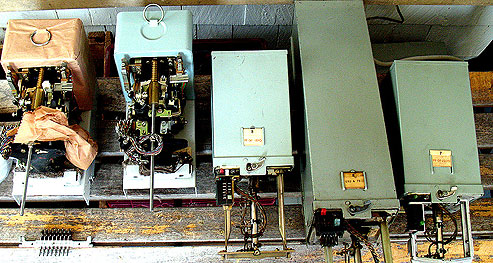 Apr 02, 2012 - I had a visit from a couple of retired Island Tel techs who brought the above UK Strowger switches saved when the Summerside switch cut over to DMS-100 in 1988. These were part of the UK Strowger switch ordered in 1948, delivered in 1949, and which went into service in February 1950. I have been looking for switches from that exchange for many years. These include 2 first selectors (linefinders), two second selectors, and one unusual ten party final selector (connector). I have been locating the rest of the support parts needed since so that a demo switch can be built using these original Summerside switches. Most items needed have been found, and/or are on their way!
---


March 21. 2012 - Automatic Electric Monophone tool. These tools have become quite rare over the years. One end was designed to remove the nut over the hookswitch on a monophone, and the other designed to loosen the nut in the monophone transmitter, to adjust it for differing user requirements. Without this tool, it can be very difficult to loosen these without scratching and.or breaking them.
---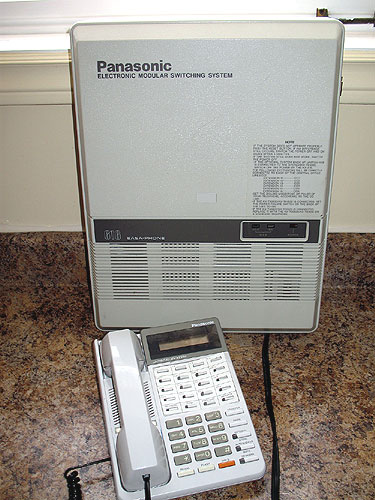 March 01. 2012 - Panasonic Easa-Phone KX-T61610 KSU and accompanying programming phone. These KSU's are quite useful for displaying and demonstrating phones, as they will operate normal POTS telephones, unlike most KSUs. I can plug 16 normal phones in this and use them as if they were all connected to the normal line, and they can be used to call each other, too.Toll restrictions may be set up so that no long distance may be called. This will be used in the new room of the museum to demonstrate phones.
---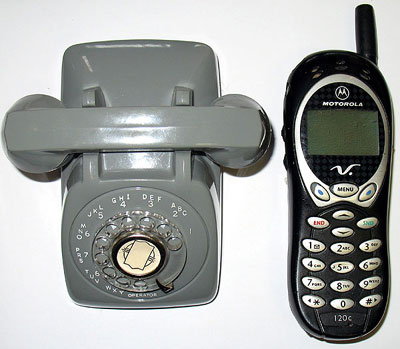 February 28 . 2012 - Left, size compared to a Motorola 120c cellphone, a salesman's sample of the AE-80 telephone in the Dawn Gray colour. To give you another perspective as to size, it is about the size of two packages of small cigarettes piled atop each other. No cords, of course are mounted. I will be the kids wish they could get hold of these! These were used to show the telephones without carrying around a full-sized set.
---
| | |
| --- | --- |
| | February 04 , 2012 - A courtesy Coin Box Co. Candlestick courtesy box. These were used in locations where many people used the phone to recover the cost of the line. The idea was for each person who used the phone to voluntarily pay for the call. These were not official telephone company accessories. In locations where it was an official phone, pay collectors such as shown below were used. |
---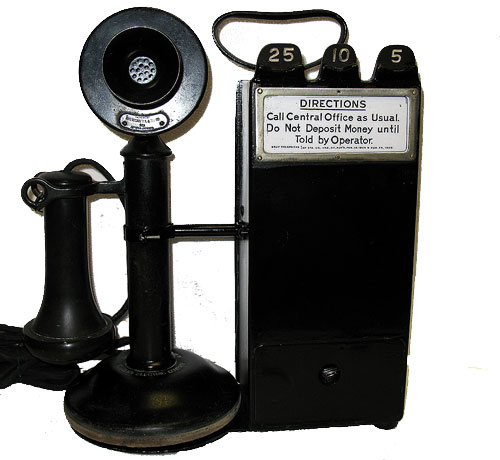 January 20, 2012 - This is my second Gray Paystation - the first was the Gray Number 11 shown below. It was made for use with a wooden wall phone, this one is a Gray Number 14, made for portable use with a candlestick phone. These were used in restaurants for courtesy phones, and this one dates from about 1909. I bought this one for $75 needing a replacement candlestick support and bottom plate, and needing keys made for the the lock to the cash drawer. These parts have been replaced, and the lock has come back from being re-keyed in Calfornia, and the collector is now in 100% condition.
Internally, this collector and the earlier purchased Model 11 are quite similar. Both consist of a Gray lead coin chute which channeled the coins to the proper gong/bell. The Model 14 has a cage around the coin box, presumably as it is portable and as a result, there had to be a means of keeping the coins inside the box as the phone was moved. The Model 11 doesn't have this cage as it is used normally screwed in one place. The Model 11 doesn't have the drilled and tapped holes for the mounting of the side racket or the candlestick strut, for the top handle, or for the candlestick under-plate that the Model 14 has. On the other hand, the model 11 has its larger back-plate designed to be screwed to the wall behind the wooden wall phone it is paired with.
Both are acoustically coupled to the phone. The operator would listen to the coin drops via sound transferred to the phone's transmitter acoustically though the brackets. The caller would call the operator as normal, and she would determine the rate, and ask them to insert the correct coinage. The Bell and gong inside the collector would allow her to ascertain that correct coinage for the rate had been inserted by the caller before putting them through.
These are definitely cool devices, a big improvement over the so-called courtesy boxes used privately!
---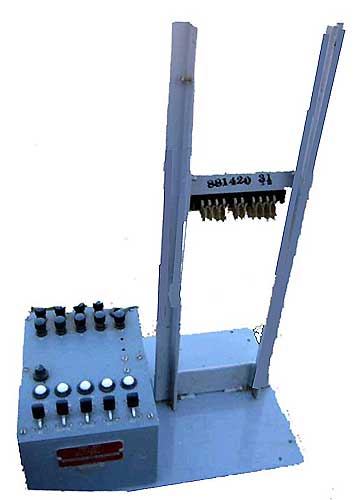 January 29, 2012 - AE Linefinder Test Stand H - 85829-1-2 - used for testing Strowger linefinder switches. This isn't the exact unit I have bought, but is representative of the model. I am hoping this will help me get the linefinders in my demo switch 100% operational. It should be here in a couple of weeks!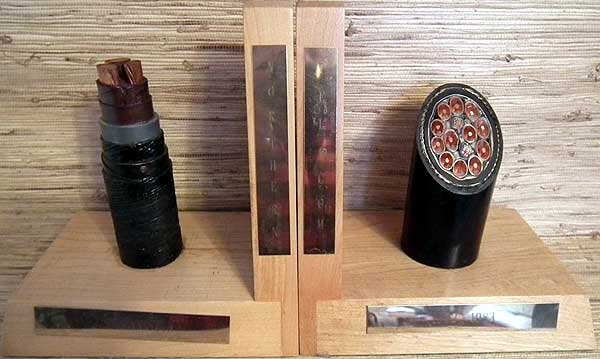 January 12 , 2012 - Presentation mounts by Northern Telecom from the 1980s. These sections of cable were presented to a retiring employee, inventor and signator of several important wire and cable patents for NE/NT, John Joseph Stefaniszyn of Beaconsfield and Point Claire, Quebec, and will now become part of the wire and cable display in the museum. John Joseph Stefaniszyn (son of Ignacy Stefaniszyn and Mary Unknown) was born June 21, 1924 in Naluze, Poland, married Helen Mary Kulas on November 01, 1957 and died April 01, 1986 in Montreal, three years after the presentation. Left, power cable, right a telecom cable with 12 coaxial cables and a dozen or so smaller cables. These cables were made here in Canada by Northern Electric during the 1980's.
---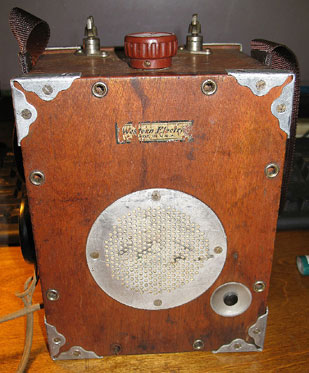 December 23, 2011 - Western Electric 17B line test set. Originally thought to be a 17C, this is the earlier 17B version with the push button on the door. Used by linesmen on open-wire magneto lines prior to WWII. The equivalent of a modern day butt set. The line would be connected to the top terminals, and the watch-case receiver located in a depression on the left hand side would be held to the ear. A magneto on the right would be used to call the exchange, and the linesman would talk into the transmitter on the front of the box. Similar to the later leather West test set. This unusually nice example was purchased from a Quebec vendor on eBay for $10.50
---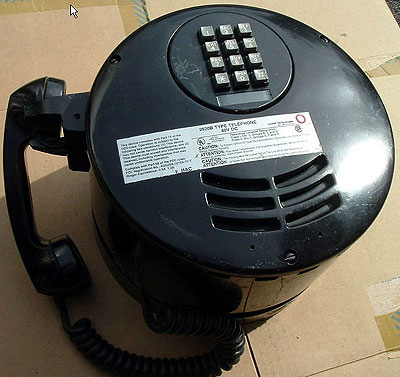 December 23, 2011 - An almost NOS Lucent 2520B Explosion proof set! These were used in mines, refineries, and other industrial locations, where the air might have explosive fumes in them that could result in an explosion if the phone sparked. These are extremely heavy (about 40lbs.) and that is why I hadn't added one to the collection before. This one was purchased for a really good price, allowing me to get it despite the high shipping cost. One wouldn't want to drop this on their toes!
---

December 22, 2011 - Left - AE Number 8; Right - Gray #11 Paystation for use with magneto phones. Made in 1909, it would mount to the right side of a wooden magneto phone, making it a payphone.As coins were dropped into the collector, the operator could count the coins dropped by the sound of the gongs and bells in the collector. A nickle would make a single "ding" sound, a dime would make a double "ding" and the quarter would make a "bong" sound when dropped in the collector. When enough had been deposited, she then put them through to the desired number, This is the ancestor of modern payphones.

Jan 02, 2011 - A second Gray Paystation is on the way, a Model 14. Designed to be used in a restaraunt to take a phone to the customer's table, the model 14 looks similar to the photo above, but has a handle on the top the waiter can use to take it to the table, and instead of the extended backplate on the one above, has struts to hold a candlestick phone to the left of the collector.
---

October 20, 2011 - A rare Number 1 dial-less Uniphone dated May 1952.Most of these phones were converted to dial in the 1950's. It is now hard to find one which hasn't been converted to dial. Unlike the Uniphone number 5s which consisted of only a hookswitch inside, and were designed for use with external subsets, these were complete phones with induction coil and capacitor and ringer. According to an inventory tag still attached, this phone was owned by the RCAF, and likely saw service in the 50s at CFB Summerside. This phone has since been cleaned up, and as it adds interest to the phone, the tag attached has been laminated in plastic and left attached..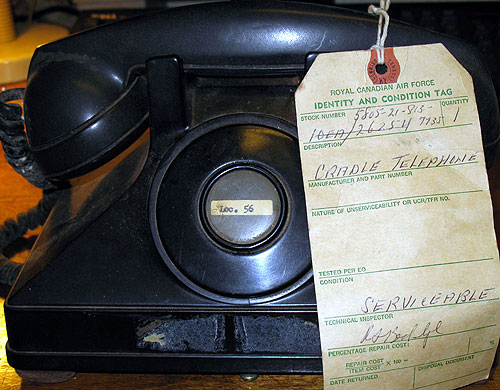 ---

September 29, 2011 - A rare Northern Electric 10 button touch-tone Princess phone was received from Jeff Lamb. This phone is in the the aqua blue colour. Shown next to it is a rotary Princess in the turquoise colour. The difference in colour is even more noticeable in person, the turquoise phone on the right having a decidedly green cast. When the 10 button set was received, it was indistinguishable from the turquoise phone to the right due to discoloration caused by sunlight and the environment. This is quite common in light blue sets.See buffing.html for another example of this. It was brought back to its original colour by sanding off the discoloured layer, and subsequent buffing. Still dome work to do and further buffing to return it to original condition. Both phones work like a charm.

---

September 25, 2011 - A great day for phones. Today at a yard sale, I found a Northern Electric N1717GP for $40, only needing a new switchhook, and otherwise in very good condition. As I already have a photo of one already in the collection posted, I am not going to post a photo of it...

But the best thing today was an original Strowger 11 digit wall phone from AE's Chicago works, bought on eBay. It is in great shape and will make a wonderful display in the museum of the earliest dial phone in widespread use in North America. Previously, I had only a photo of one of these displayed. . The 11th (first) digit was used for Long Distance, later found unnecessary and incorporated along with the Operator digit. The digits ran top to bottom, first the Long Distance digit, then O-1. These phones are becoming very rare. This phone will soon be winging its way here from Saskatoon. Some of these phones were sold to farmers to use as an intercom betweek their house and barn after they were removed from active service. This has preserved many of them in Western Canada. Despite this, they are considered quite rare. Isn't she a beauty? I have been looking for one of these for a long time, but as they were never used here, they simply don't show up. These preceded the rotary dial.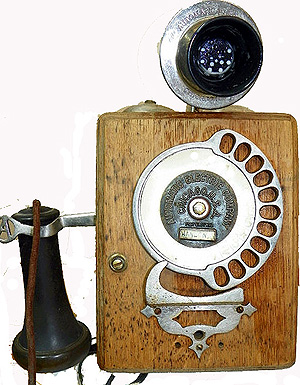 ---

September 15, 2011 - Thursday, I took a trip into Charlottetown, to look at a number of items I had been told I could have. Included were two Northern Electric 211 phones, another Number 1 NE Uniphone, an interesting transmitter control unit made from a 43A turret and a type NU Handset, a Fairchild/Dumont frequency meter from the days of FM business radio, two early 50 mhz. Motorola Handi-Talkies (used in the days before cellular), and two Wilcom T194 Transmission and Line Noise test sets in great shape. Along with these (and not pictured) were a number of 66 and other new unused blocks.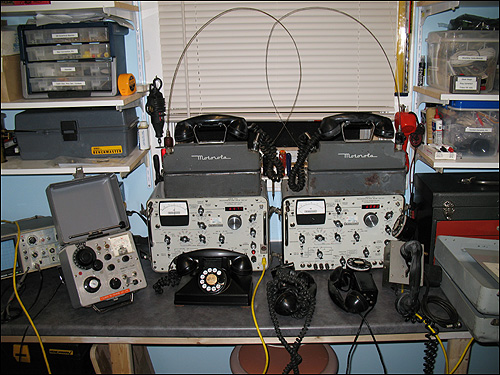 All have been cleaned up, the Wilcoms have been checked out, as have the 211s, the Uniphone has been wired for private line and outfitted with a spade-modular cord. Love to hear from anyone with a manual for either the Wilcom or the Dumont test sets. Wilcom and Fairchild can no longer supply these manuals.
---

May 23, 2011 - Just back from the museum, after a large number of 500's, 2500's, Harmony, etc. were received this morning dropped off by Dave Swan.It was short but enjoyable visit. Along with them came a 354, another Model 33 Calculagraph, Princess, Contemporas, and a box full of NOS cords, dial centers, plastics, handsets, etc.
These had been promised a few months ago - Linda and I later unpacked many of them on the new display case to photograph. I took these photos later after a quick rest. Not all would fit on, but I have taken a photograph of the remaining pieces in the boxes.
Most are Northern Electric, but there is one aqua blue WE 500 set in the bunch... In total, there are 24 in all, plus the great box of spares!
The parts included a number of NOS dial plastics (haven't counted them but in the vicinity of a dozen), spare handsets, including one with volume control, receivers, transmitters, and a large number of NOS in the bag spade cords. The handsets include about a dozen NOS Harmony handsets in great colours.
There were also three beige NOS Round dial plates for TT dials, and 3 NOS beige face mats for 2500's.
Still a lot of sorting to do! Meanwhile, Dave continues to look out for more. My favorites - the aqua blue 500, green 500, the yellow 500 in the box in the last photo, and the two red 500's. The yellow 500s need new handset cords, but there are a couple of NOS yellow cords in the spares box.
As of noon, May 25th, 2011 all if these phones have neen changed from party line wiring to private line wiring, repairs made where needed, stickers removed, and all have been thoroughly tested. The last one done was the white 500 in the second photo with the G6 (amplified) handset (which was disconnected in the photo). It was a fun and relaxing job done in several spells sitting at my desk in the museum.
Thank you so much Dave!