Our "Trophy Shelf"!
This page best with a browser supporting Tables. You may link to any of the sites which presented the award by clicking on the graphic!
"Presentation of the 2000 Orlo Jones Award" Apr. 21, 2001
The year 2000 Orlo Jones Award was presented to Dave Hunter at the 25th Anniversary Meeting of the PEIGS, Apr. 21, 2000 by Orlo Jones for his work in promoting PEI genealogy. The larger plaque hangs inside the Provincial Archives.
---
"History Room Appreciation Award, 2001" Feb. 15, 2001
---
"Award 2000" Jun. 12, 2000
---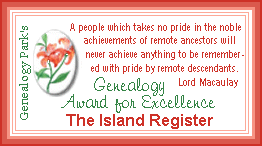 "Genealogy Park Award for Excellence" Mar. 15, 2000
---
"Best of the Internet for Genealogists Award" Nov. 28, 1999
---
Approved Nov. 2, 1999
---
"The Canada BB Prime Site Award!" - Mar. 07, 1999!
"Your PEI Genealogy web site at https://www.islandregister.com/index.html has been visited by members of the Canada Bulletin Board and deemed a site worth recommending to others."
---
Presented to our 1752 Acadian Census Page, July 22, 1998!
---
"The Wilder Place, Genealogy Excellence Award!" - July 14 1998!
"What a truly wonderful site you have! Congratulations, The Wilder Place is pleased to present you with our "Genealogy Excellence" Award.... I'm going to be back and thoroughly investigate your site for my own research. You're making a major contribution to the genealogical community. Thank you!" Thanks, Lucy!
---
The Island Register, and Pictou Roots
The following is a review from Curtis Neill's web mounting of the "Thistledown News", Vol. X, Issue 2, a publication of the Kern County Scottish Society:

Tracking down that first wily Scotsman can be difficult for the progeny, but there are some wonderful www sites to help. Two of these sites are easy to read and retain the flavor of first hand historical documents -

https://www.islandregister.com/ and http://www.rootsweb.com/~pictou/mainpass.htm

Both of these sites deciminate information gained from the immigrant passenger lists and ship's logs preserved from ships bringing Scottish and Irish immigrants to Prince Edward Island and Nova Scotia.

The earliest logs are for 1772 until the early 1830's. Some passenger lists are meticulous in listing names, ages and family relationships. Some even include the occupation and financial status of passengers. Almost 10,000 Scottish immigrants were recorded using this passage. With some luck you may find your ancestor.
---
Prince Edward Island

"Prince Edward Island is Canada's smallest province in physical size, but of much bigger stature when it comes to taking its place in Canadian genealogy.

Located in the Northumberland Strait off the coasts of Nova Scotia and New Brunswick, its founding peoples were the MicMac, the Acadians, Irish, and the American Loyalist.

Known for its beauty and charm, it also has a history of looking after its heritage, much of which can be found on the PEI website, "The Island Register" at
https://www.islandregister.com/index.html .

At this site is located the PEI Lineages Index, census records, links to PEI sites, PEI placenames, and a bookstore, just to name a few. It is a very popular site, with many thousands of hits during the past year." - From Genealogy Canada News Online, Vol. 2 No. 10 --- ISSN 1482-6429, 10 July, 1998, "Backgrounder on Canada", [No longer online].
Thanks!
---
"The Island Register, Dave Hunter's excellent Web site (https://www.islandregister.com/), includes a glossary of ship terminology, [Link to: The Ship Information Database (an online database of information on ships that sailed Canadian waters)] and his very useful P.E.I. Ship Arrivals / Departures Database. It includes an extensive list of ships which sailed into Prince Edward Island from the mid-1700s to the mid-1800s and passenger lists for many of the ships (including as much detail as the manifests provided). In many cases, interesting background information about the ships, their crews, passengers, and voyages is also provided." - Journal of Online Genealogy - Volume 2, Number 11, June, 1998, article by Lori Fox. Thanks, Lori for the nice comments!
---
"Genealogy Hunter's Award!" - June 10 1998!
"I did a quick look at your site and was most impressed at the overall effect you have achieved. The data you have is fantastic and all up, I am proud to add your site to my Genealogy Hunters Award pages!" Jenny is from Meekatharra, Western Australia. Thanks, Jenny!
---
"Leith Hutton's Award of Excellence" - June 09 1998!
Leith is an Athens, GeoCities Community Leader, and resides in Palmerston, North New Zealand. Thanks, Leith!
---
"Molann an obair an saor Award!" - June 08 1998!
"Molan an obair an saor" is Irish translated literally as "The work recommends the craftsman", or in modern terms, "Judge a man for his work". Thanks Roger!
---
"Plant Your Tree Featured Site" - June 07 1998!
---
"Ancestry Connections Award" - June 07 1998!
DeWanna has put the following review of the Register on the Ancestry Connections site!
"This page has EVERYTHING you can imagine on Prince Edward Island! This is one of the most informative sites I have visited, queries, ships list, cemeteries, family reunions and MORE!" Thanks for your kind words, DeWanna!
---
"Sam's Spectacular Homepage Award" - June 07 1998!
Sam includes on her page this lovely review of the Register!
"The Island Register, P.E.I.'s Premier Genealogy - Who would've thought that tiny Prince Edward Island could produce such an abundance of genealogy information? Dave Hunter's page is part of the Canadian Gen Web project and if you have P.E.I. ancestry, this is an absolute "must see". Among the features are the 1752, 1768, 1798 and 1848 Census records; Island Directories, P.E.I. Ship Arrivals/Departures Database; information on P.E.I. family reunions; queries; cemetery listings; historical information and several biographical sketches. All links work, the graphics are very nice and the entire site is very easy to navigate. Even if you don't have P.E.I. ancestry, I'd recommend a visit to see an excellent site!" Thank you, Sam!
---
Received by our P.E.I. GenWeb Page - the May '98
GenWeb Site of the Month" - Presented June 01 1998!
---
"Presentation of the Mary Cornfoot Brehaut Award" Feb. 17, 1998
Webmaster Dave Hunter was presented the Mary Cornfoot Brehaut Award, Feb 17, 1998, "In recognition of an outstanding contribution to the preservation of the Heritage of Prince Edward Island" by the Hon. Lt. Governor, Gilbert R. Clements at the PEIMHF awards dinner in Summerside. This award is the Island's top genealogy award.
---
"Genealogical Award of Excellence" - January 02 1998! [No longer online]
---
"Tracking Your Roots Award" - October 16 1997! [No Longer online]
---
"Genealogy is my Hobby Award" - September 18 1997!
"Congratulations - I have reviewed your page and have found it an excellent resource for Online Genealogy, and am pleased to present you with my "Excellence in Genealogy" Award!" Thanks, Pamela! [Pamela's page is no longer online]
---
"Rockett Award" - October, 1997!
We have been awarded the Rockett Award for the month of October, 1997. The Rockett award recognizes individuals and or sites that go above and beyond the call of duty. Chosen sites take an active hand in helping people find links and pieces of their past. Thank you, Kay.
---
"Gifted Fox Award" - August 15, 1997!

For meeting and exceeding criteria for art, layout, content, design, pictures, and ease of navigation.
---
"Canada Rocks the World" - P.E.I. Award Mar 15, 1997!
"Your site was submitted to me for review, and I'm pleased to say you have won the CANADA ROCKS THE WORLD Cool Canadian Award for P.E.I. Don't you feel special? This award is given to sites that focus on their particular province or territory, in your case, it is P.E.I. In fact, you're the first site to win the P.E.I. award! Well done on an informative site. Your page is nicely designed and is a great resource for anyone wanting to know more about their ancestors from your region." A bit of Island trivia, the flower on the award is P. E. I. 's provincial flower, the Lady Slipper. Thanks, Allie!
---
"A Passage in Time" - Genealogical Award Apr 02 1997!
"Congratulations! You have won the Family Genealogy - A Passage In Time Genealogical Homepage Award Of Excellence! You have won this award for a job well done. Keep up the good work!" Thanks, Sherry!
---
We wish to thank those who nominated us for these awards! The most deserving recipients of these awards are our viewers, as they are the ones who make this page what it is. Its truly nice to know "The Island Register" is appreciated and a joy to work on the page, and it is a true honour to receive them! Thank you one and all!
---
Dave Hunter and The Island Register: HTML and Graphics© 2001
Last Updated: 04/27/2001 12:14:17 PM
Return to Top!
---