---
Sherren's of the World - Page 176 to 200
---
View Family Tree of William Sherren of Newfoundland, - Page 176 -
---

Not much else is know about John, except that in 1836 he was married to Eleanor Shea from Pouche Cove and later settled in the Bonavista area. Here, they raised their children consisting of :

| | | | |
| --- | --- | --- | --- |
| Stephen | 1846 - 1904 | (__) | Page 178 |
| George | 18__ - 19__ | (__) | Page 180 |
| James (merchant) | 1851 - 1929 | (__) | Page 180 |
| Arthur | 1868 - 1929 | (__) | Page 180 |
| Emily | 1889 - 1893 | (__) | Page 180 |

It is known that both John and his wife Eleanor could neither read or write. In my search, I found that each of them signed the register which recorded their marriage in 1836 with an X, which was witnessed by the minister.

I believe that it was here that the name became misspelled as "Sharron", which many of the descendents use to this day. One family of his descendents in the 1900s discovered this error and corrected the spelling back to Sherren.

The second child and first daughter of William and Mary was Elizabeth. She was born in 1823. In 1842, she was married to Tom Moulins from Bonavista. They stayed in this area where they raised their family.

I have no further information about this family.

The third child and second son of William and Mary's was Samuel, born in 1827. He was named after his uncle who left England with his father, William, and sailed on to Prince Edward Island.

He married Jane, who was born in 1825 and died in 1909. I believe he had the following three children :

Elizabeth, was born 1853, died in 1878. John, born in 1855, was married to Francis and had two children; Alexander and Norman. The youngest was Samuel, who was born in 1897 and died the same year.

The fourth child of William and Mary was a son born in 1835, whose name was Robert. He married Hannah and had three children, James (1887-1893), Robert (1888-1888), and Oliva (1891-1891). It appears that, unfortunately, all of this family died as infants and left no descendants.

- Page 177 -

---

We will now follow the families of John Sharron and Eleanor Shea. Their first son was Stephan who was born in 1846 and died on December 12, 1904. It is not known who he married but he also had four sons.

Their first was Thomas, who was born in 1881 and died as a teenager in 1899.

The second was Benjamine, born in 1883 who also died young in 1903.

The third was John, who was born in 1885, and died in 1951 at the age of 63. He had one son Archibald, known as Arch.

The youngest was also a Stephan, who was born in Point Leamington in 1890 and died in 1958. He served in the Royal Navy during World War I and on his return moved near Botwood where he married Rhoda Francis Hurbe Ball, known as Francis, who bore him seven children :

Audrey, born in 1920, married Wallace Manuel and raised eight children: Phyliss, Keith, Caren, Boyd, John, Rick, Lindy, and Shawn.

Jasper, was born June 1922, and died in January 1990. He was married to Ann Stuckles from Twillingate. He served with the Royal Air Force from 1940 to 1945 in Normandy for which he received a citation.

Stephan and Francis' third child was, William, born in June 1924. He served in the Newfoundland Regiment and married Jessie Stuckles and had one child, Bonnie. After the death of Jessie he married Daphne Pope, and had four more children: Beverly, William, Ernstine, and Paulet.

Then came Joseph Waldo, born October 1926, who married Ernstine Pope and raised three children: Darren, Connie and Wendy.

Dorothy Louisa was born on September 1928 and married Robert Gorden Roberts. They raised eleven children: Lindy, Stephen, Jack, Harvey, Madonna, Brian, Morry, Lorrie, Darren, Bill and Jeffrey.

- Page 178 -

---
View Family Tree of Stephen Sharron, - Page 179 -
---

Reta Joan, the sixth in the family was born in July 1932 and married Watson Coobie. Their five children were: Sharron, Wande, Susine, John and Mark.

The youngest was John Ruloph, born in 1934. He married Doreen Caines and raised four children: Kerry, Gail, John and Todd.

The second son of John and Eleanor was George who was born in 18__. He was one of the key founders of the Salvation Army movement in the Point Leamington area. He later married Sarah Russel from Point Leamington and had four children.

The first was Nelson, born in ___. Before enlisting in the Armed Forces he worked in Point Leamington.

He served in the 2485 Regiment, serving overseas with that unit. He was mortally wounded on April 14th, 1917 at the Battle of Monchy, LaProux, during World War I. He was last seen alive at the 1st Field Ambulance in Souai on April 15th by his close friend Abe Roberts from Bottwood (Reg # 2766). Roberts survived and later married Corp. Sherren's sister, Georgina.

Nelson Sherren is buried in Douai, France.

Next in the George and Sarah family was a daughter named Georgina. She married Abe Roberts from Bottwood, who served overseas in Normandy and France.

The youngest in the family of George and Sarah was a son, John Frederick, whom we will deal with in the following pages.

John and Eleanor had three more children about whom very little is known.

First was James, who lived from 1851 to 1929 and was a merchant. Next was Arthur, who lived from

1868 to 1929. Finally came Emily who was born in 1889 and only lived a few years to 1893.

- Page 180 -

---
View Family Tree of George Sherran m. Sarah Russel, - Page 181 -
---

I have not received a lot of co-operation in getting information about this line of the family. However, sketchy as it is, this is what I have.

The youngest in the family of George and Sarah was John Frederick. I believe that he served in the military and married Rowena Mary Baggs.

John and Rowena had four children:

The first was Nelson, who worked at a number of professions, as well as owning his own business. In the past he had also travelled extensively and during this time he made it a practice to look in the phone book for Sherren names. He would phone and introduce himself, and make whatever connection he could. By doing this, he was fortunate to meet some of the Sherrens who live in PEI and Quebec.

He joined the Reserve Army, being promoted to the rank of Captain. He was instrumental in the restoration of war artifacts in St. John's. One of those was a cannon, which now sits in front of the museum, located on Signal Hill, overlooking the harbour.

He married Loretta Keeping and had five children:

Keith Frederick, born ______ 19__.

The second son of Nelson and Loretta is Kenneth Nelson.

The next in line is Reginald Donald, who is now in the broadcasting business and can be often seen doing the news on national television.

Nelson's third child, and first daughter, is Christine Vivian.

The youngest in this family is Jennifer Rowena.

Nelson and Loretta were separated and she moved to Ontario.

Nelson has now formed a union with Patricia Cowan, who has a son from a previous marriage. Nelson, initially was a great deal of help in accessing the Newfoundland archives, but employment commitments and time constraints kept him from assisting further.

- Page 182 -

---

Corporal Nelson Sherren, Reg. No. 2458, was the son of George & Sarah Sherren of Point Leamington, Notre Dame Bay. He was wounded April 14, 1917 at Monchy, France and was last seen alive at 1st. field Ambulance in Douai on April 15, by Private Abe Roberts, Reg. No. 2766 of Botwood. Roberts survived and later married Corporal Sherren's sister.

Photos are of Corporal Sherren, his grave at Douai, an envelope returned after he was posted missing, and an envelope from a letter written to his mother from France that went as far as New Zealand, before finally arriving in Newfoundland. The letter was written by him from Scotland in 1916, to his father and mother.

Presented to Branch 12 by his nephew, Nelson J. Sherren (Capt., Res. Army).

- Page 182A -

---

The second son of John Frederick Sherren and Rowena Baggs was Bryce. He later moved to Stouffville, Ontario, where he married Mona Hampton from Landsdown, Ontario.

Bryce and Mona had two children :

John, born ______ 19__.

Lynn, born ______ 19__.

Bryce died in 1968 of a heart attack, which happened on the Firefighter's Rolling Hills Golf course, in Stouffville, Ontario. He was 31 years old at the time.

Next in line was Keith, who was born in 1940. He died as an infant at the age of six months.

The youngest in the family was Reginald. He was born on July 29, 1943. After completing his education he entered the field of Mechanical Engineering, specializing in the Pulp and Paper industry.

In 1967, he moved to the Woodland area of Maine, in the United States. In 1972, he returned to Stephenville, Newfoundland, but only for five years. He then settled in Nackawick, New Brunswick.

In 19__ he married Ellen Bartlett Dove from Cornerbrook, Newfoundland, who, after raising her family, entered the field of Graphic Arts.

Reg and Ellen have two children :

Robert Bryce, who was born on January 14th, 1971, in Calais, Maine. He is following his father's footsteps and studying to become a Mechanical Engineer.

Katherine Dove, born June 23rd, 1973, is interested in becoming an artist.

This is all the information I have on these families which is unfortunate. I believe there are individuals who, if willing, could have supplied many more facts.

On the positive side, at least we have made the connection with the Newfoundland Sherrens and if someone wished, they could embark on more extensive research on these families.

- Page 183 -

---

******************************

It is of no consequence of

what parents a man is born,

so he be a man of merit.

******************************

- Page 184 -

---

Introduction to the

Sherrens of Broadmayne

As I mentioned at the beginning of this book, I made contact with many Sherrens from whom I gathered information. One of those was Derk Sherren who is living in Port McNicoll, Ontario. As a result of research which he was independently conducting, and comparing our notes, we are now aware of the existence of at least one family line whose ancestry does not trace back to the James and the two Marys of 1790.

All the information documented in this section (Broadmayne) of the book was researched and provided by Derk. He took up memberships in the genealogical societies of Ontario and Dorset, as well as doing untiring research in many other areas in Canada and the United States.

While in the process of compiling information for this book, Derk's father died of a heart attack, which is one of the weak characteristics we discovered in this family line.

Derk and I conclude that the link between these two families happens at either the father of James (1770), of England who had two wives names Mary, or at James' father. This is unclear; however, records show that our James and Mary had a brother William, and the William of 1744 of the Broadmayne family had two brothers named James and John. We have not determined for sure if they are, in fact, siblings.

For the balance of this chapter we will refer to the PEI/Newfoundland Sherrens as the James and Mary line, and to the Sherrens of Derk's family as the William of Broadmayne line.

The following pages are now in Derk's own words.

- Page 185 -

---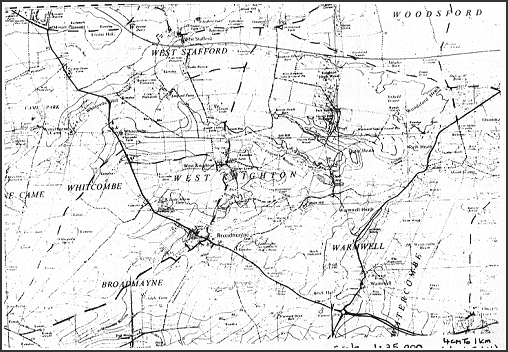 - Page 186 -

---

- Page 187 -

---

As written earlier by Joseph, the first documented records on Sherrens in church records around England were found in the Longburton Parish which is located twenty five kilometers to the northeast of Weymouth and Broadmayne near Sherborne.

There are other very early records found in Sherborne, Somerset, and Puddletown, which are all located in this same region. Therefore, we assume that the family must have migrated south from this area to Broadmayne, and then to Weymouth. However, it is very difficult to trace, since there are so many names with similar spellings, such as Sheering, Sharron, Shearing, Sheeran, and so on. These may or may not be part of the same family.

Let us take a look into the area of England from where this family originates. Dorset is a county located in the southwest area of England, which is bounded northeast by the County Wiltshire, east by County Hampshire, south by the English Channel, west by County Devon and Northwest by the County Somerset.

My branch of the Sherren tree was located in the town of Broadmayne, where the earliest ancestor of my branch lived. Broadmayne is a small farming community located between the City of Weymouth (which during the 18th century was a large shipping port and the location of the James & Mary line of Sherrens) and the City of Dorchester to the northeast, only eight miles away (see map).

This area is geographically called the South Dorset Downs and has been noted for sheep and vegetable farming. The Sherren families of the 18th century were mostly yeoman farmers.

As quoted from the Encyclopaedia Britannica, "a yeoman farmer is a farmer who owns a small part of land, a person of the middle class engaged in agriculture".

As you have been reading, the Sherren family tree is quite interesting and consists of several branches which have made their own mark in the history of England and in other parts around the world.

This is a look into the Thunder Bay Branch of the Sherren Family Tree. With the tremendous help in research from Joyce Doreen Sherren and John Coventry Sherren, and other relatives of this branch, I have found out that the earliest mentioned Sherren in my line was a William Sherren.

- Page 188 -

---

We are still conducting research to find out who the actual brothers, sisters and parents of this William were. By continuing this we will determine for sure if this William was either a cousin or a brother of James (and Mary) written about earlier.

This is a Chart of William SHERREN:

William Sherren

(1744 - 1825)

m. Alice (18__ - 1808)

|-------------

----------------|-------------

------------|

James Sherren

(1778 - 1804)

William Samuel Sherren

(1779 - 1841) m.

Ruth Miller (1793-1860)

John Sherren

(1782-1784)

|
|

James Sherren

(1802-1857) m.

Barbara Lucas

William Sherren, was born in Broadmayne, county of Dorset, England, in the year 1744. This was at a time when England was ruled by King George III. William was a yeoman farmer by trade. He married Alice, the last name and date of birth as yet unknown, however, it is possible that it was 'White' since that is the second name given to many of William's grandchildren. Her death took place in the year 1808.

So far in researching, we find that William and Alice had 3 children. But I believe that they had more children, as families, especially farmers, in those years, had fairly large families. Further investigations will hopefully reveal this.

William died in 1825, at the ripe old age of 81. William's children so far researched are:

James was born in the Town of Friarmayne, Dorset in the year 1778. He was baptized February 1, 1778 at the Independent Chapel in Dorchester. Records have shown that James was married, the name of his wife as yet unknown, and that they had at least one child.

The one child so far traced was also a James, born in the town of Friarmayne in the year 1802, which was two years prior to his father's death in 1804. This James of 1802 married Barbara Lucas, who was born in 1796, and died in 1875, at the age of 79. So far, there has not been any discovery of more children. James (junior) died in the year 1857 at the age of 55.

- Page 189 -

---
View Family Tree of William Sherren m. Alice, - Page 190 -
---

William Samuel, born in Broadmayne on June 24, 1779, who was a yeoman farmer. William married Ruth Miller, who was born in 1793 and died at the age of 67, on March 25th, 1860. William died at the age of 62 in 1841.

John was born in Broadmayne in 1782, but died at a very young age in either 1784 or 1791.

Since we were unable to gather any more information on either James or John, we will follow the descendants of William into the 1990s. It should be noted that William and Ruth Miller were active members of the Durngate Independent Chapel and we have documented proof that Ruth was admitted into membership of the church on August 4th, 1815.

This second "William" and his wife, Ruth Miller, had at least nine children:

John was born on March 16th, 1816 and was christened on April 25th of the same year. Again, we have no further information on this individual.

James Miller was born on December 13th, 1817, and was christened on February 5th, 1818, at the Independent Chapel in Dorchester, Dorset. We only know that he died at the age of 22 on the 17th of July 1839.

Ruth White was born on November 26, 1819, and christened on February 10, 1820, also at the Independent Chapel in Dorchester.

Joseph Miller, was born on May 3, 1822, and christened at the Independent Chapel in Dorchester on June 2nd, of the same year.

Henry, born March 4, 1824 was christened on March 25th, 1824, in the Lady Huntington Room, at the Grey House in Dorchester.

Samuel Miller, was born on February 27th, 1826 and was baptized on March 23, 1826, also in the Lady Huntingtion Room at Grey House.

William White was born on May 18, 1828, baptized June 12 of the same year, and died on June 5th, 1877. He became a Reverend in the United Church and I have recently come across one of his old calling cards.

- Page 191 -

---

This William was married four times and had a very large family. We have fairly detailed records regarding the descendants of this individual. We will follow the story of his four wives and thirteen children in the succeeding chapters.

The next of William and Ruth's children was Martha Miller, who was born on July 4, 1830, and christened on August 17, 1830. She was married to a Mr. Rigg or Riggs and had a son, William, born in Dorchester in 1847 and who died in 1872.

Isaac was born on January 30th, 1833, and christened in the Independent Chapel of Dorchester on August 25th of the same year. He died as an infant on March 3, 1834.

We will now follow the family of William White, the third "William" and the seventh in the family of William and Ruth. It is known that he was married four times; first to Elizabeth Bradbury. From this marriage came a son, Algernon, of Dorchester, who was born 1855 and died in 1862. There was no more family from this union.

Elizabeth experienced a very lengthy illnes and her younger sister came to live with them and look after her. Elizabeth died in 1855, and is buried at Bakewell. William then married the sister, Jane Bradbury.

From his marriage to Jane also came one son, William Ernest. He later married Chrissie Brooker (more on her later). This couple raised a family of two daughters:

Olive Bradbury born in 1886, married Maurice Booty. They had one son Ronald, who married Betty King and had two children, David and Maureen.

Ruby Janet was married to Ernest Thompson, and had two children. First was Frances (1934), who married Ted Ashton in 1955, and Margot (1936), who married Richard Morton, also in 1955.

Chrissie died in 1938 and is buried in the Mitcham Cemetery in Dorset.

Jane Bradbury died in 1867, and she is buried at Lytchett. William was married for the third time to Ann Cricket. She was the daughter or Reverend James and Ann (Hanley) Crickett. This third wife, Ann, died in 1879 and is buried in Abney Park, at Stoke Newington.

- Page 192 -

---
View Family Tree of William White Sherren and wives, - Page 193 -
---

William and Ann had four daughters;

Annie Ruth (1871-1956), married William Henry Halsey, born in 1863, who pre-deceased her in 1930. They had two children: John Douglas, who was killed (1918), in World War I in France, and Marjorie Ruth (born 1900), who in 1936 was married to the Reverend George Thomas Rogers in Calcutta, India. Marjorie and George also had two children, Michael George and Susan Mary.

Alice Cricket, was born in 1873, but we have no more information about her.

Ethel Mary, (1875-1958), was married to Alfred Sear of Watford in 1905. They had one daughter, Mary, born in 1906, who married three times; the first time to Fred Elwood Fox, with whom she had a daughter, Ann Sherren Fox. Ann (1934-1974), married John Wallace Clark in 1955 and had three children, Tom, Sherren and Cathy.

Mary's second husband was Clarence Armand Keeley. They were married in 1977 but he died that same year. Her third marriage was to William "Nic" Nicolai who died in 1988. Mary has led a very active life, and is currently residing in Florida, having recently completed several trips to the Amazon, China and Russia.

The youngest of William White Sherren and his third wife Ann was Francis, who died when she was only three months old and is buried in Tonbridge, Kent.

William's fourth marriage was to Alice Brooker, (1962-1915). She was the younger sister of Chrissie, the wife of William's second son, William Ernest. Alice is buried at the Mitcham cemetery.

William and his fourth wife Alice Brooker had eight children: the first child was Algernon Belton, born on May 31, 1881 who died on August 3, 1980. A pharmacist by trade, he owned and managed his own drug store in England. He moved his house and store several times because of the bombing in 1939. He was married to Edith Ellis of East Sheen (1888-1987) but were later separated.

He moved to Australia at the age of 90, and died there just before his 100th birthday. His wife, Edith, who was remarried in England, died on August 25, 1987, at the age of 99.

The second child was daughter, Hilda Maude, who was born in 1883 and died in 1901.

- Page 194 -

---

Because of the size of the family, the next chapter of this section will be devoted to their third child, Claude Irving Sherren, his wife Nora Kathleen Hobson and their descendants.

The third child of William and his fourth wife Alice Brooker, was a son, Claude Irving Sherren, born 1885 near Tonbridge, Kent County, England. he died in 1944 in Thunder Bay, Canada. Being my grandfather, he is the one we will follow.

He was married to Nora Kathleen Hobson (1890-1960). Claude was the first Sherren of our family line who immigrated to Canada, around the year 1914. Claude worked with the inspection branch, Board of Grain commissioners, in what was then Port Arthur, Ontario.

He died of a heart attack on February 24, 1944 at the age of 58 and is buried at Mountain View Cemetery in Thunder Bay. His wife, Nora had four children starting with Joan Alyson, born January 9, 1915, who married William Bruce Wall )born 1912) on April 6, 1939 in Ottawa. William was the manager of the Commercial Credit Finance Co. until his retirement.

They are currently residing in Ottawa with their Airedale, "Teddy". Their family consists of two boys and one girl.

Patrick Bruce, born August 1, 1940, who lives in Owen Sound with his wife Kathryn Ann Honderick and their four children: Patrick Kevin, Sean Geoffrey, Derrick Grant, and Joanne Kathryn (who was adopted). Pat operates a large animal veterinary service in Owen Sound.

William Ernest, born on January 10, 1944, who married Petra Carmen Maroldt (born in Berlin, Germany in 1947). They live in Alberta with their family of five, consisting of: Michael Bruce, Laura, Alayse, Jennifer Allison Ryan and Rebecca.

Jerrylyn Joan, born December 3, 1947, was married twice. The first time to Keith William Parsonage and the second time to Edward Terence Cook, who was born on October 22, 1923 in London, England. She has two children from her marriage to Ted: Sarah Joan, and Elizabeth Lyn.

Ted recently retired from his job as head nurse in the X-ray Dept. of Owen Sound Hospital, and they now call Shallow Lake, Ontario their home. Jerrylyn is still the head technician in the X-ray Dept. of the hospital.

- Page 195 -

---
View Family Tree of Claude Irving Sherren, - Page 196 -
---

The first son of Claude and Nora, John Patrick (Pat), was born and raised in Port Arthur (now known as Thunder Bay), Ontario, on September 27th, 1916. He joined the Permanent Active Royal Militia Canadian Ordinance Corps at the rank of Private in January, 1938. In July, 1939, he was promoted to Staff Sergeant and transferred to the Canadian Active Service Force. During the second World War, he served in Italy, then France, Germany, and Holland. Later, after the war, he served in Egypt for the United Nations.

He was promoted several times, finally to the rank of Lieutenant Colonel in October, 1960, at which rank he retired in June 1967.

His decorations were: 1939-1945 Star, Italy Star, France and Germany Star, Defence Medal, Canadian Voluntary Service Medal and clasp, War Medal ('39-45), United Nations Emergency Force medal, Queen Elizabeth II Coronation Medal 1953, and the Canadian Forces Decoration and clasp. His dedication to the military and service to Canada was a greatly honoured one.

At the end of World War II, he married a Dutch war bride, Jantine Molenaar, on November 16, 1945, in a little village called Charney Basset in the county of Oxford, England. Jantine was born on September 14, 1917 to Israeline Visscher and Derk Molenaar (merchant marine) in Groningen, Holland.

Jantine emigrated to Canada in 1946, followed later by Pat. They had two children Claude Irving, and Derk Louis. They moved around in Canada with the military, finally settling on Howe Island, one of the larger of the Thousand Islands on the St. Lawrence River, just east of Kingston, Ontario.

There, Pat's love of constructing can be seen in the two homes and many other projects he built. Upon retirement from the military, Pat served for a while as a consultant, in the United Nations in Guyana, South America (two years), in Indonesia (two years), Pakistan (three months), and three months in Korea.

Pat died of a heart attack on July 13, 1989 at the age of 72 in Kingston, Ontario. He was cremated and his ashes were laid to rest at his home on Howe Island.

The first son of Pat and Jantine is Claude Irving. He was born on September 19, 1946 in Kingston, Ontario. After finishing High School, he followed in the career of his father by joining the Canadian Forces.

- Page 197 -

---

| | |
| --- | --- |
| | John Patrick Sherren, born in Port Arthur, Ontario, had a very distinguished military career. |

- Page 198 -

---

He enrolled in College Militaire Royale located in St. Jean, Quebec, in September 1964. After graduation, he then enrolled in the Royal Military College in Kingston, has matched the rank of his father, Lieutenant Colonel, as a Signal Officer in the military.

Claude married twice; first to Elizabeth Mary Huntington Simpson, born in Halifax, Nova Scotia in 1949. She is the daughter of Mr. & Mrs. Donald Mills Simpson. After 13 years, their marriage ended in divorce. They had no children.

Claude then married again on July 18, 1987, to Jill Margaret Thomas, born February 5, 1955 in Monmothshire, Newport, Wales. She is the daughter of Leslie and Joyce Thomas of Burlington, Ontario. Claude and Jill have one son, Matthew Patrick, born in Ottawa, Ontario on April 13, 1988. The family is presently residing in Toronto, Ontario.

[Note: a major contributor to this section was Derk Louis Sherren]

Now we come to me, Derk Louis Sherren. I am the second son of Pat and Jantine. I was born on December 20, 1951 in Winnipeg, Manitoba. After finishing High School in 1970, I worked for a local lumber yard as an accountant. In February, 1971, I, too, joined the non-commissioned ranks.

After graduating from boot camp in Cornwallis, Nova Scotia, I was posted at Gagetown, New Brunswick for six months, then to Petawawa, Ontario, where I was in the Infantry (Airborne).

In 1975, I was posted to Baden-Baden, West Germany. Then in 1978, re mustered (changed trades) and was sent to Port Borden, Ontario to train in Supply and Services.

There, I met Lorraine Patricia Ripley. We were married on November 4, 1978. Lorraine was born in Verdun, Quebec on April 9, 1946. She is the daughter of Lawrence and Mildred Ripley, who later retired in Burlington, Ontario. Lorraine's father has since died and her mother now lives with us.

After Lorraine and I were married, we lived in Toronto where our first son, James Patrick, was born on December 31, 1980. We were posted in 1981 to Kingston, Ontario. There, our second son, Robert Louis, was born on November 23, 1983.

- Page 199 -

---

After 15 years In the military, and nine moves while married, I took early retirement and moved one last time to Port McNicoll, Ontario, where we still reside. I have now begun a career as a CRT installer at Mitsubishi Electronics Ltd. (where they make colour picture tubes for televisions).

I am also employed part time as a custodian at Knox Presbyterian Church in Midland, Ontario. Lorraine is a church secretary.

Next in the family of Claude and Nora was a daughter, Claudia Olive, born on May 15, 1920. She married Robert Horace Roy Whitely, born in 1921. They both died in a tragic automobile-train accident near Marathon, Ontario in 1954.

They left a family of four.

Sherren Ann, born March 17, 1942, who married Allen Keith MacLeod and had four children, Robyne Kathleen, Mark Keith, Steven Dale, and Anthony Elmer.

Derek Roy, born on January 24, 1945, who married Dianne Elizabeth Walker and had a family of three: Jason Derek, Robert Glen, and Jeaninne Elizabeth.

Norelea, who was born in 1946.

Claudia Anthony, born in 1951, who married Andras George Svarckopf (1948), and had two children: Benjamine and Jessie.

The youngest son of Claude and Nora was Arthur Stanley, born on October 2nd, 1927. He first worked with Ontario Hydro as a lineman, and was later promoted to an executive position. He lived most of his life in Thunder Bay and died of a heart attack in 1979, at the age of 52.

On May 1, 1954, he married Fleurette Barette, (born on May 17, 1935) from Timmins, and raised a family of three daughters and one son:

Wendy Joy, born September 7, 1958, who is a Certified General Accountant and lives in Vancouver, British Columbia.
- Page 200 -
---
Sherren's of the World

| | | | | | | | | | | | | | |
| --- | --- | --- | --- | --- | --- | --- | --- | --- | --- | --- | --- | --- | --- |
| | | | | | | | | | | | | | |
| Back | Fwd. | 1 | 2 | 3 | 4 | 5 | 6 | 7 | 8 | 9 | 10 | Index | Next |
---
Presented by: Dave Hunter, The Island Register, and Joseph C. Sherren.
Last Updated: 5/23/99 5:50:40 AM
Return to Top!
Return to Main Page!
---