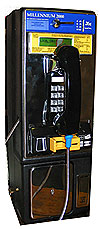 Ernest Telecom Based COCOT Payphone

This payphone is based on the Ernest Telecom 7D-1 motherboard, a microprocessor based COCOT (Customer Owned Coin Operated Telephone) phone. This phone is completely programmable, and operates on a normal line, and determines long distance fees using an internally programmed rate table. A microprocessor based voice guides you through the operation process, in conjunction with an LCD display. It is a multi-pay phone, which means it accepts coins of 5, 10, 25¢, and dollar, and payment by credit card.

While Ernest Telecom was a legitimate company, this particular phone was made as part of a 1999 payphone scam by another company using parts which had been cleared by Ernest the year before from their obsolete 7D1 model. People were led into believing that with a considerable investment in payphones, they would get rich. Soon they discovered that locations and Canadian approval for the phones had not been secured, Canadian rate tables were not available, and support was non-existant. The phone was named "Millenium 2000" to misle people into thinking they were getting a Nortel Millenium phone, the Cadillac of the industry at the time.

Ernest was not involved in the scam other than unwittingly selling parts to the perpetrators, as they did to many other legitimate companies. They were as much victims of the scam as the investors. Despite its shortcomings, not having an updated rate table, this phone is a good operating phone, and will make a nice display item in the physical museum. I would like to find documentation for the Ernest 7D-1 or 7D-3 board.